As cycling moves further off roads and into adventure, culinary exploration grows in kind. Long gone are the days of being limited to chewy bars and sugary gels—carry a homemade treat or create a feast around a campfire instead. Even on quick morning trips, it's not uncommon to pack a small stove, a bag of beans and enjoy some #coffeeoutside. But who ever heard of #comtéoutside?
Giving a decidedly European twist to the American trend of enjoying café au fresco, riders Maxime Poisson and Pierre-Charles Flipo loaded their bikes and headed into the snow to enjoy an afternoon of fitness, fun and a famous French cheese.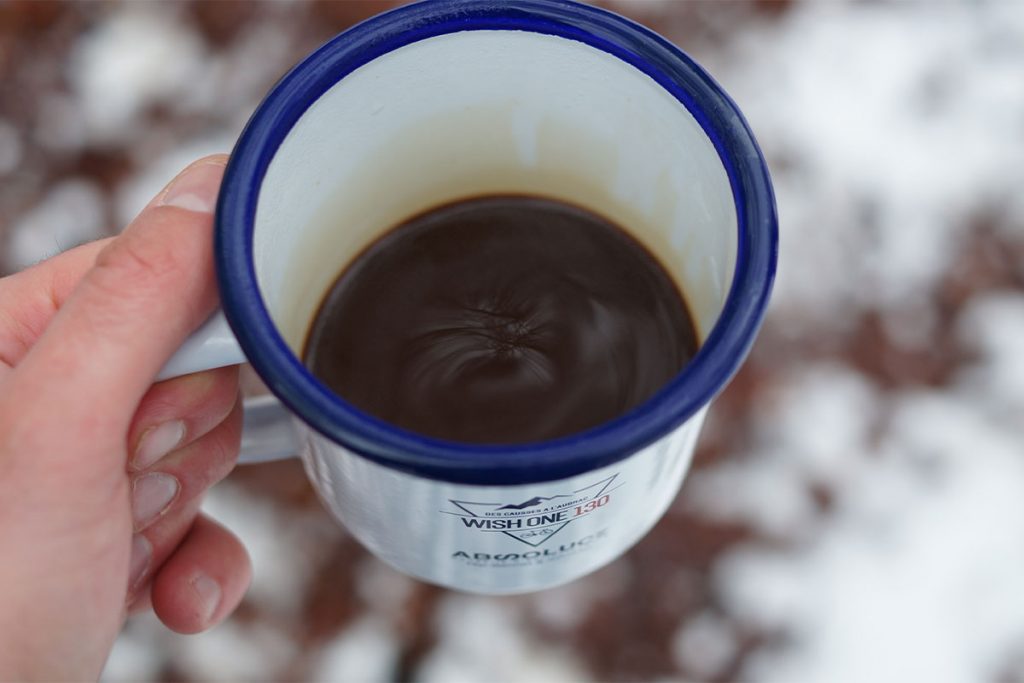 "There are many reasons to go to Jura: Riding the roads and trails deep in the forests, of course… skiing in the mountains, as well… but have you ever heard about Le Comté?"
The Jura region of eastern France, much like the country at large, is replete with good wine, great food and world-class cycling. Situated near the Swiss border, this mountainous locale attracts visitors to its rolling vineyards in summer and ski slopes when snow falls. Year-round, however, the region enjoys another big draw, and it calls to fromageophiles from around the planet: the famous Comté cheese.
"A Few days ago, we decided to go cycling on the snowy roads of Jura," Maxime recounts. "With warm clothes, fizik winter overshoes, good tyres, some bread, snacks and all the stuff for an Italian coffee, we were ready to face the freezing weather of the area between Poligny and Champagnole."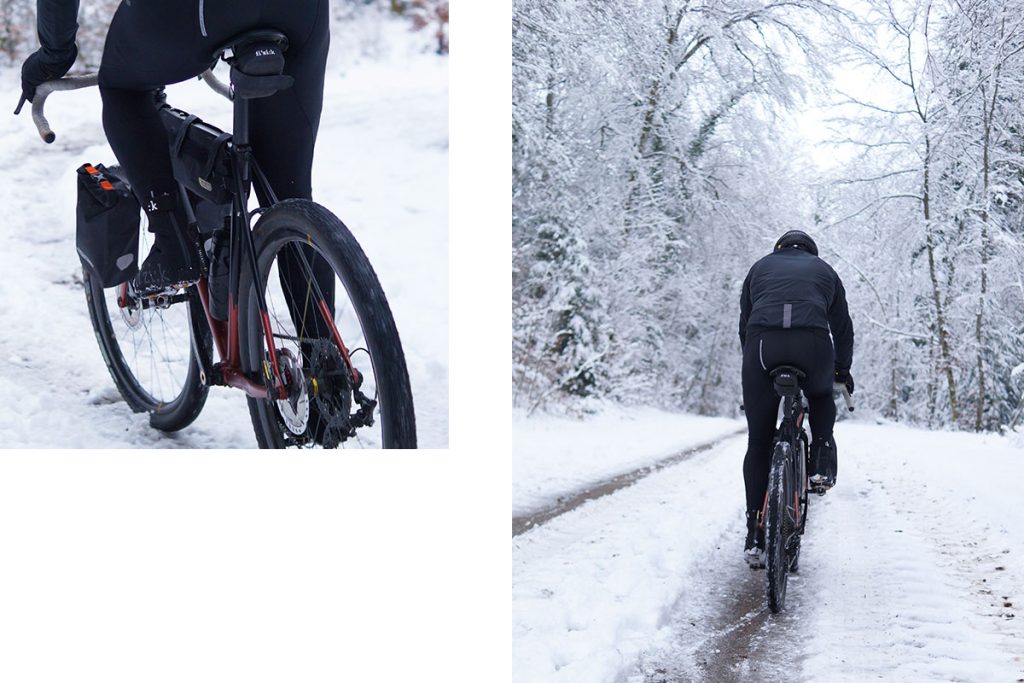 Starting in Poligny, the pair first had to make a quick stop before venturing onto the surrounding snow-covered roads:
"In this small, charming city, there is the largest choice of Comté shops in the area, so we decided to stop at a nice-looking shop in the centre of Poligny," Maxime explains. "How could we resist this cheese? It will be perfect as Ravito!" (Shorthand for Ravitaillement, or food resupply during a race)
Sufficiently stocked with a two-year-old cheese and plenty of stoke to hit the road, Maxime and Pierre-Charles set off into a winter wonderland.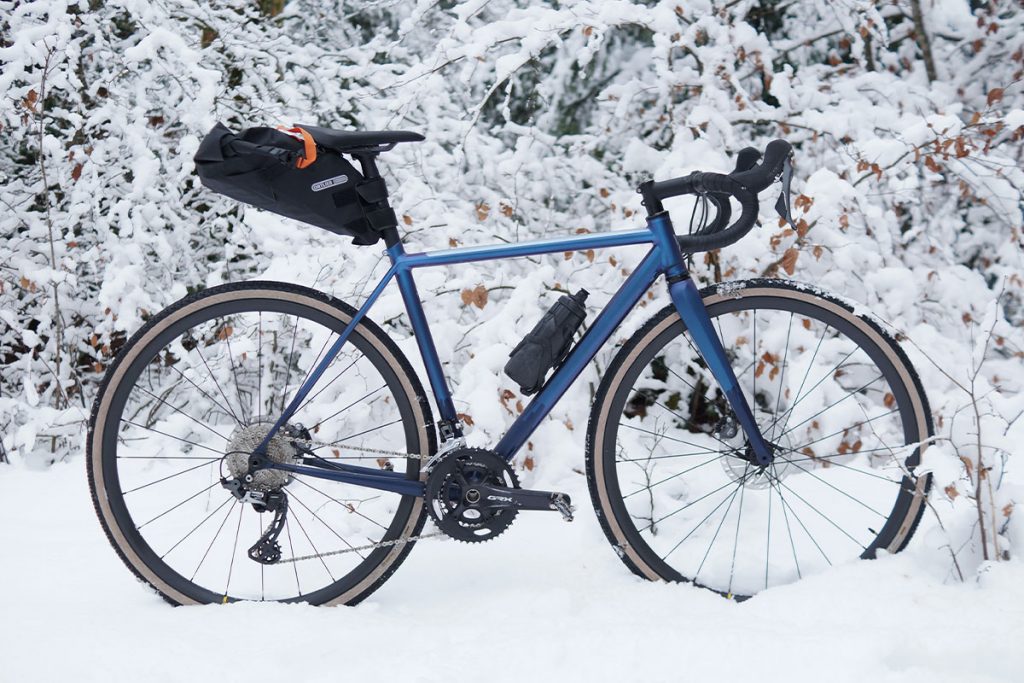 "Riding on snow and ice is not easy. But the landscape was unreal, the space was full of silence, and we could imagine the nice tracks sitting just below the snow."
As the slippery roads began to take their toll, it wasn't long before the friends started dreaming of more than snow-free streets.
"The effort, the cold and concentration all burn calories. And when you have Comté on your mind, you start to feel like you're starving really quickly. Fortunately, we found a perfect place to stop and start our lunch—a crossroad with a bench to welcome us," Maxime remembers fondly. "What a pleasure to eat fresh bread with sausage and Comté. A raspberry yogurt for dessert followed by a great coffee to warm our body and our hands, and we were ready to go again."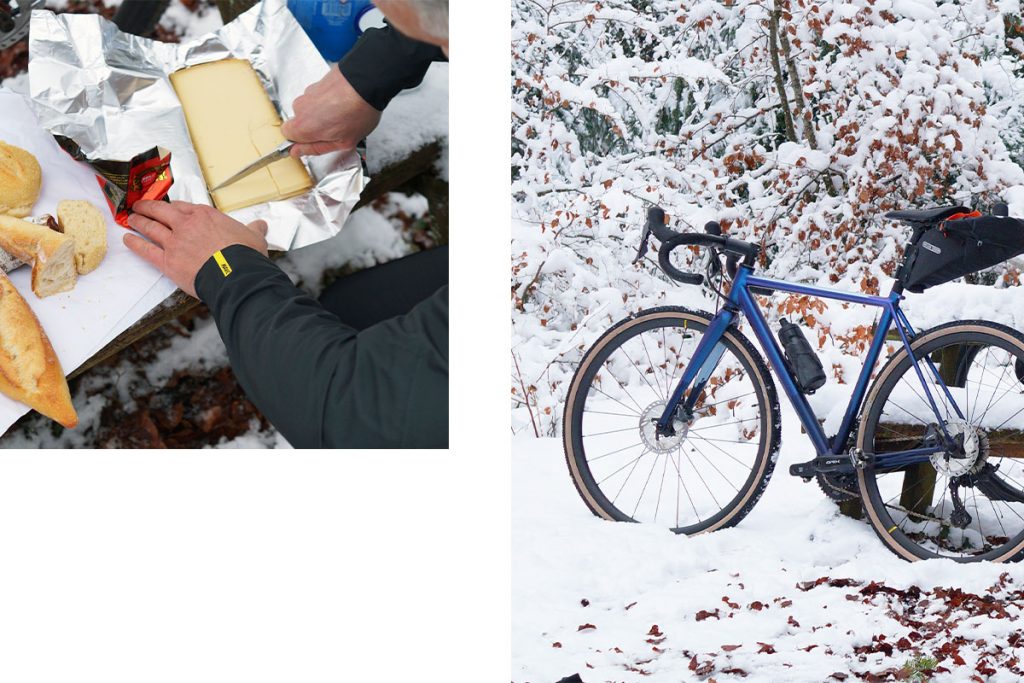 Back on the road, accompanied by full stomachs and the soft crunch of snow, Maxime and Pierre-Charles slowly made the return trip to town in the fading final light of the day.
"Life now seemed easy on our bikes, and we no longer felt the cold, but it was time to go back home. Was the ride too short? Certainly! Was it worth it? Definitely! After all, isn't that what we're all looking for: a nice place to ride your bike with a friend, eat local food and enjoy a perfect coffee!"
Maxime Poisson (@lalmax) is a cofounder of @wishonecycles, Pierre-Charles Flipo (@scops.cc) is an artist and avid cyclist. You can follow their continuing adventures on Instagram.