Heading out on a bike trip gives me great satisfaction. When you start the journey, it feels like an ordinary ride of a couple of hours, but when you return, days later, you'll have a few hundred kilometers more in your legs.
On this trip we had 700, and we were out for most of four days.
As usual, we find ourselves assembling the pile of things needed for the trip, never too punctual, never too late. We put various things, some of which we'll never use, in our bags and attach everything to the bikes. Not having to board a train, or catch a flight, or take a trip by car before getting on our bikes gives us a certain advantage: if you leave late, you can decide to shorten that day's ride while you're out on the road, or finish later …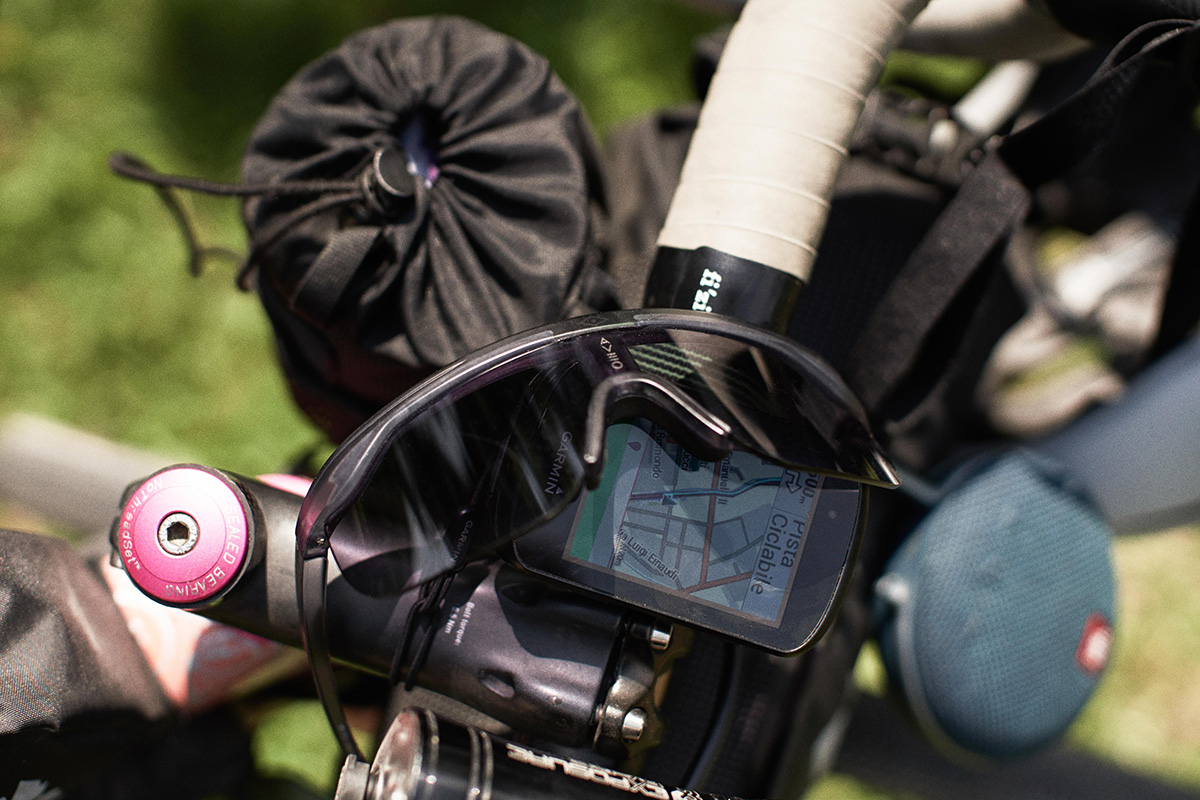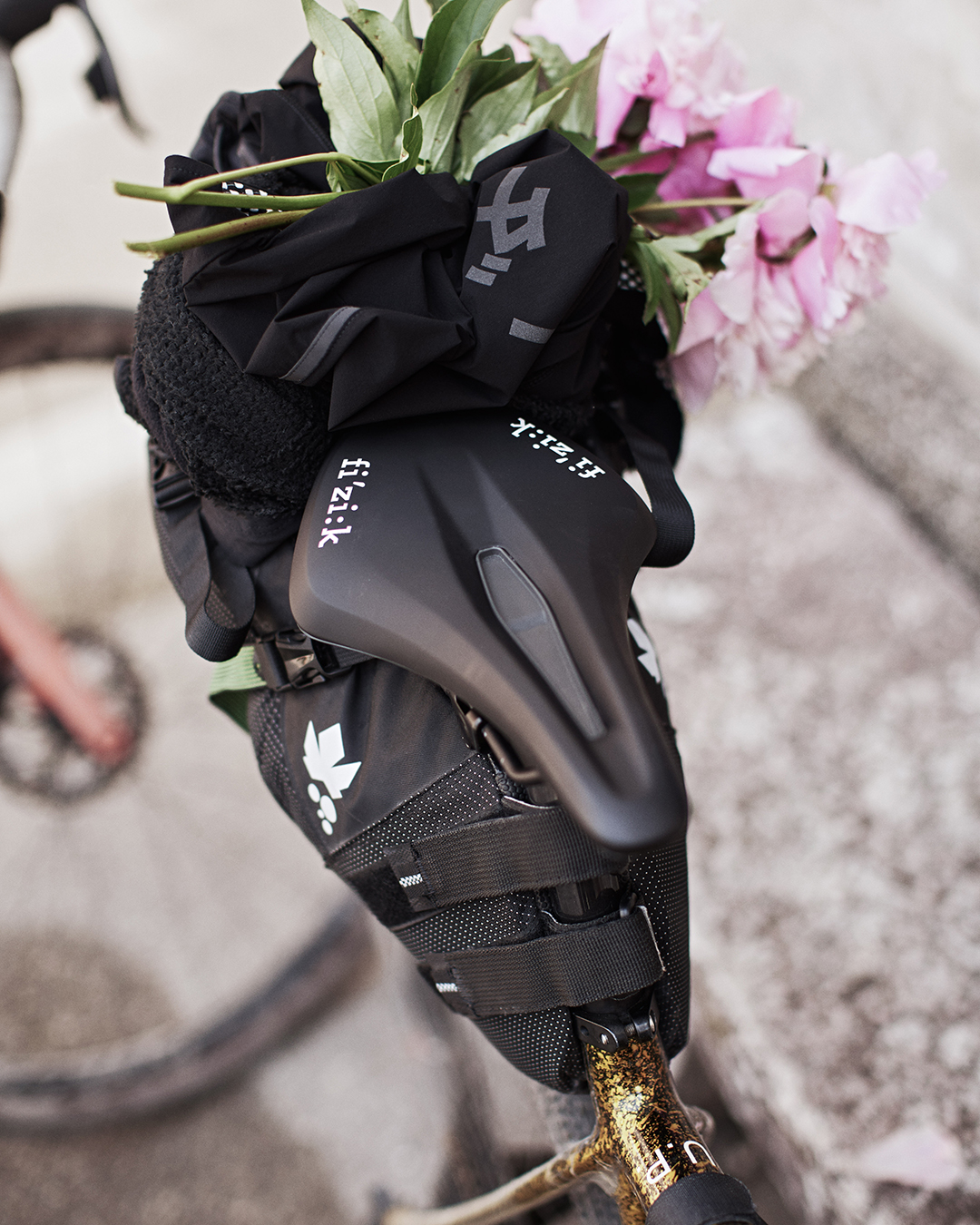 Cento lives in a special place, Villa Angarano. We get on our bikes and the children in the courtyard, seeing the bags attached to our frames, understand that it could be days before we return.
Every so often, Cristiano switches bikes while riding around the courtyard to let us know that he could follow us on the road and even off-road, if he wanted …
While waiting to see us leave, they ride around the courtyard on their bikes in a group, checking the door of No. 6. When we say goodbye, they look at us as if we were the parents they'd always wanted.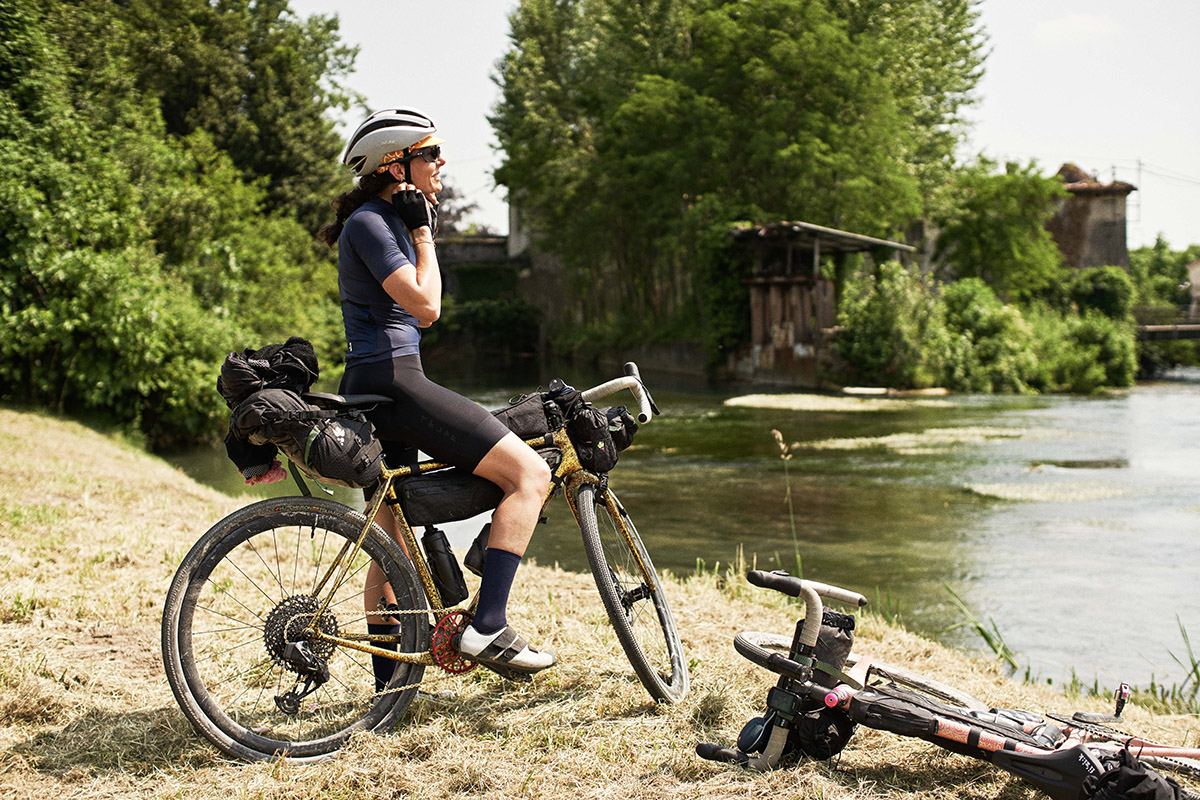 Riding in our area is rewarding. We've come to the conclusion that it's the means by which we move — in our case, by bike — that brings real satisfaction. Cycling helps us to enter places and hearts by eliminating long faces and fears. If you "enter" with a smile, you are welcomed and met with a smile. The only problem with getting around by bike: drivers.
In Italy, they haven't yet figured out how to protect cyclists, so a few mutual raised fingers are de rigueur when you decide to ride on the road as well as off.
We find a little bit of everything along the way, and having started in the late afternoon, here the first encounter is with dozens and dozens of slimy frogs, hypnotized by the headlights of our bikes along the trails and roads after a heavy storm.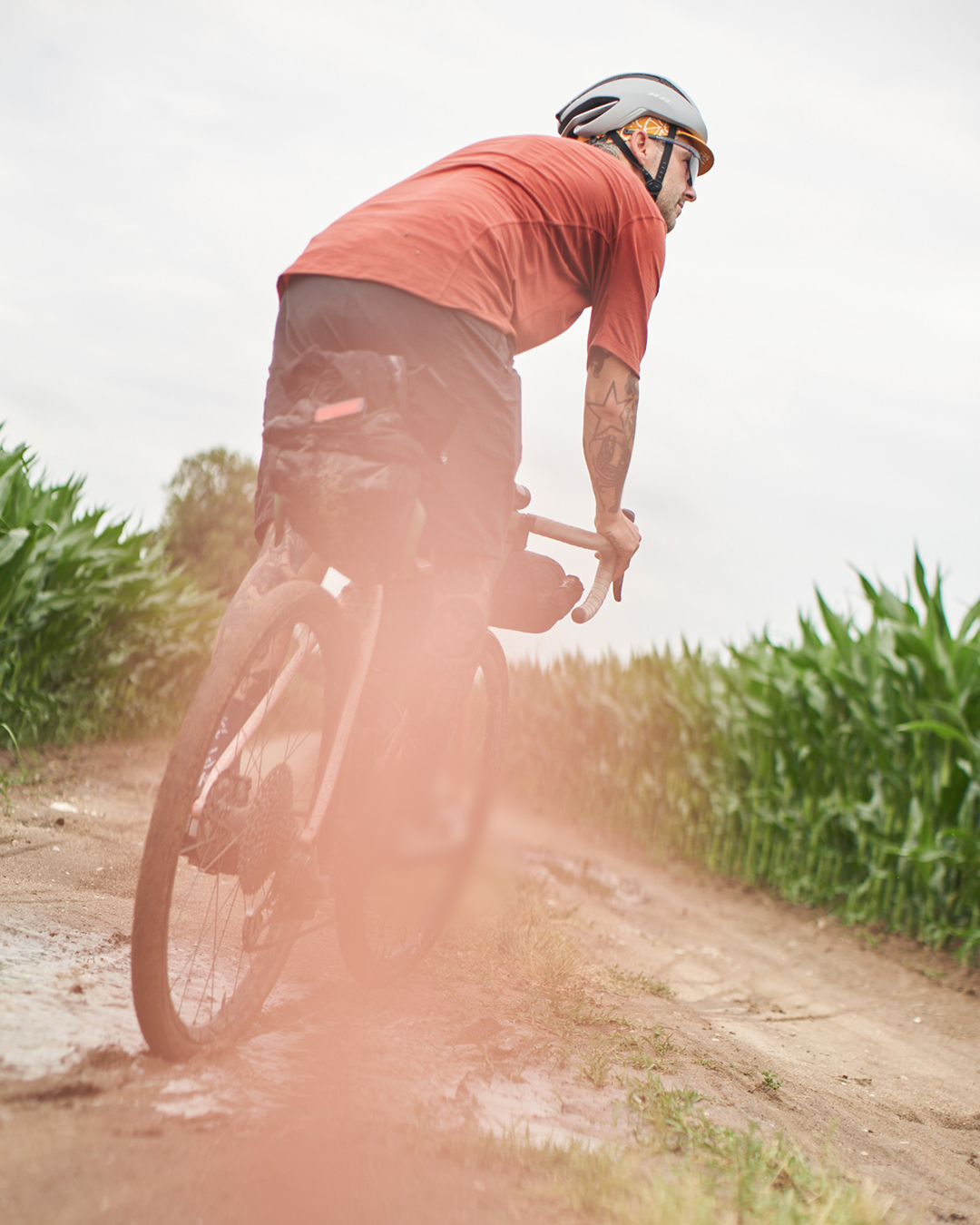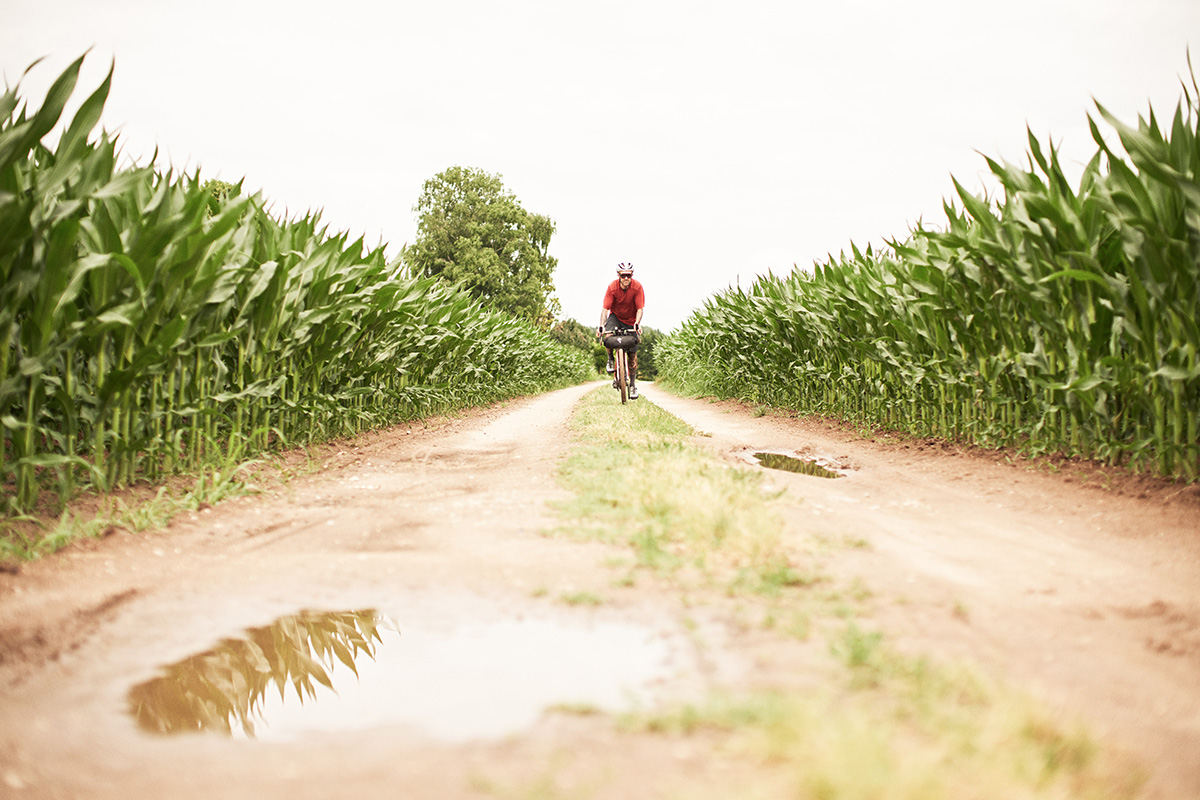 Finding last-minute accommodations is very easy for us. Usually this is my job, and, due to some strange circumstance, even after hearing "Sorry, we're full" several times, some incredibly beautiful, often characteristic, place always turns up in the end. The statement "We're coming by bike and we're looking for accommodations to stay dry" can sometimes be a plus that helps us be accepted in beautiful places, as well as a minus that gets us excluded by those who don't understand that we aren't vagrants …
Feltre really welcomed us. Michela, the owner of a beautiful B&B in the center, urged us to bring our bikes inside the apartment for safety and left the key under the doormat, since we wouldn't be able to get there to check in before 1:00 a.m. Having said that, she wished us a good trip on the phone and told us we could pay with a bank transfer after we finished the ride … no rush.
The flooring in her apartment reminded us of East Berlin, but totally restored and spotless.
The bikes felt safe.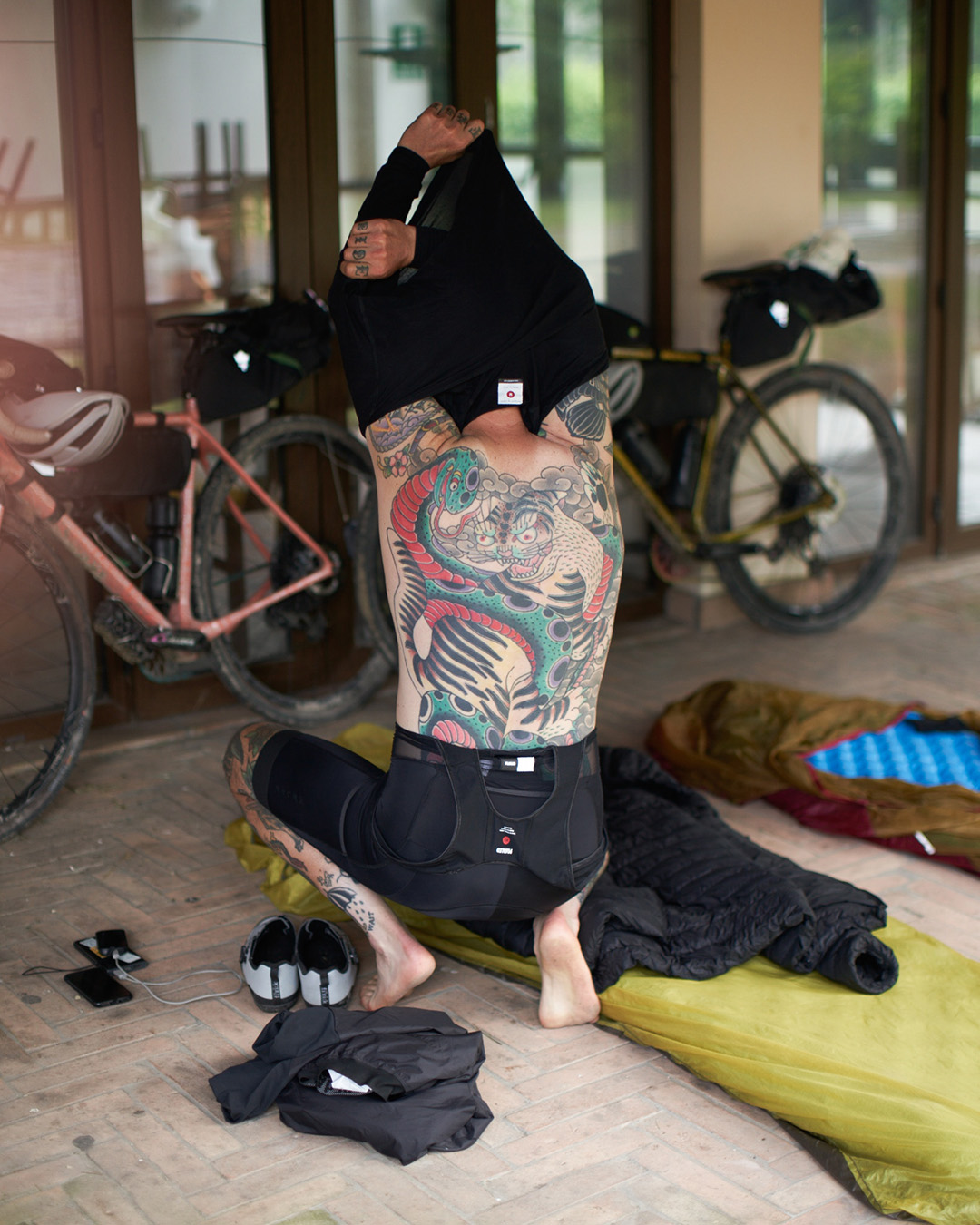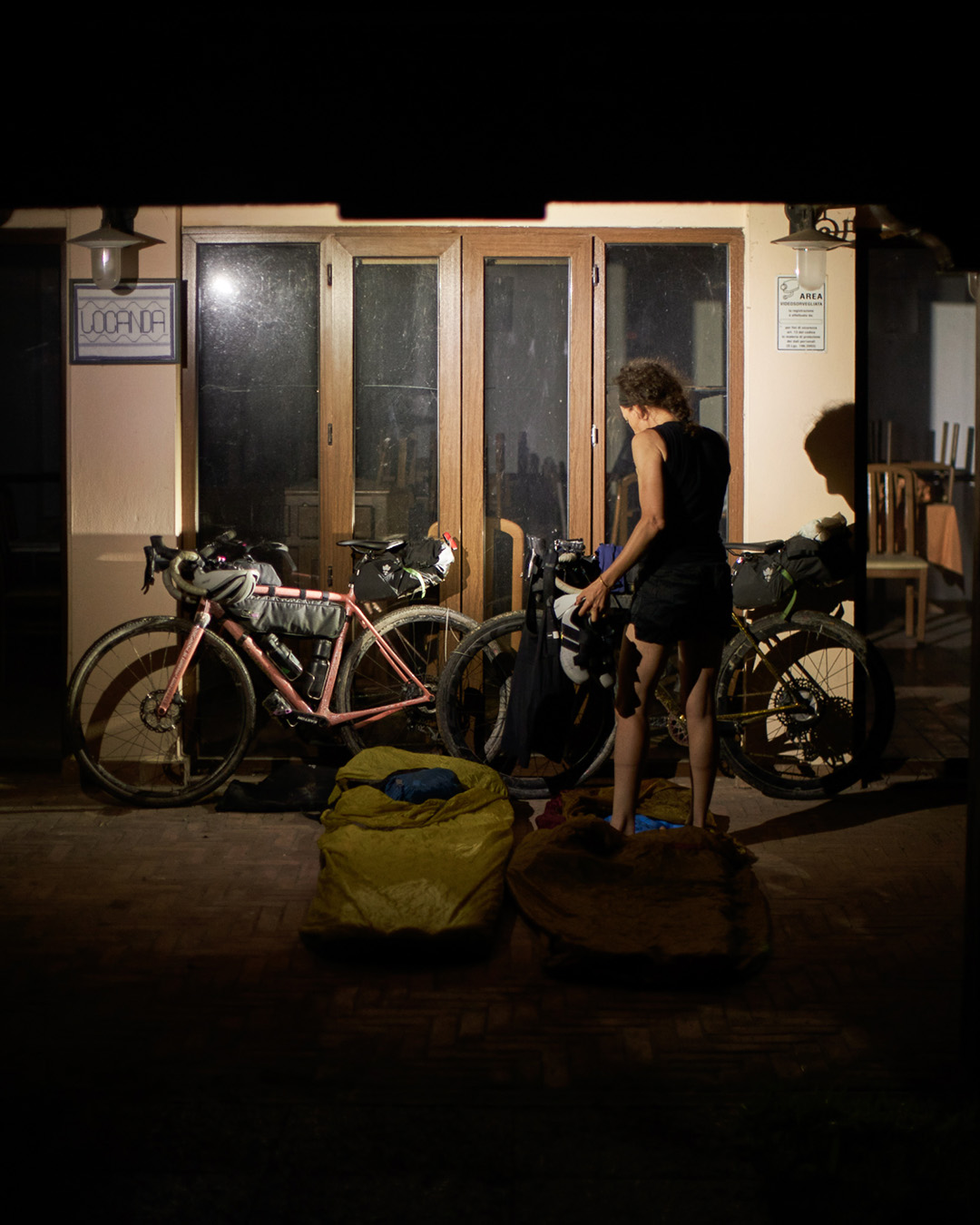 From the mountains to the sea was our plan.
The rain welcomed us to the sea as we enjoyed generous portions of mixed fried seafood by the water in Caorle. There was also abundant rain, which made us return inland, as the weather forecast advised and where we took shelter under the roof of the terrace of an abandoned inn before Treviso. In the morning we realized we also had a sink supplied with hot water to our left, and it was nice to be able to clean ourselves up a bit.
We ride to Treviso along the Restera, which is always pleasant. It's best avoided on summer weekends, though, since you sometimes come across even more people than mosquitoes.
Along the riverbank leading to Padova, we meet a pair of Italian wolves, as elegant as they are stern, and totally irresistible. Ste couldn't decide whether to give up the bikes or the dogs …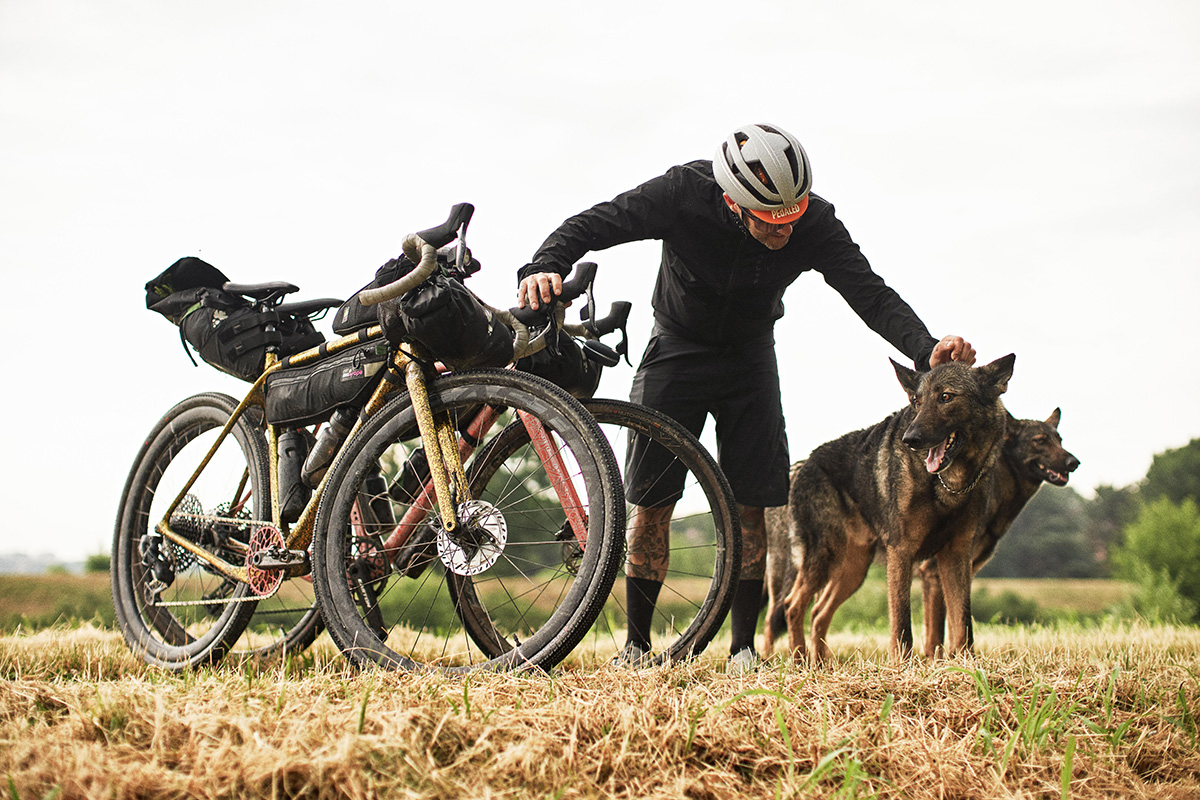 "Wolves for Cento, flowers for me.
I like to pick flowers along the way, put them on my saddle bag like a boutonniere, and change it day after day …
Belluno was a peony, Jesolo calla lilies, Abano Terme a magnolia, Polesine an onion …"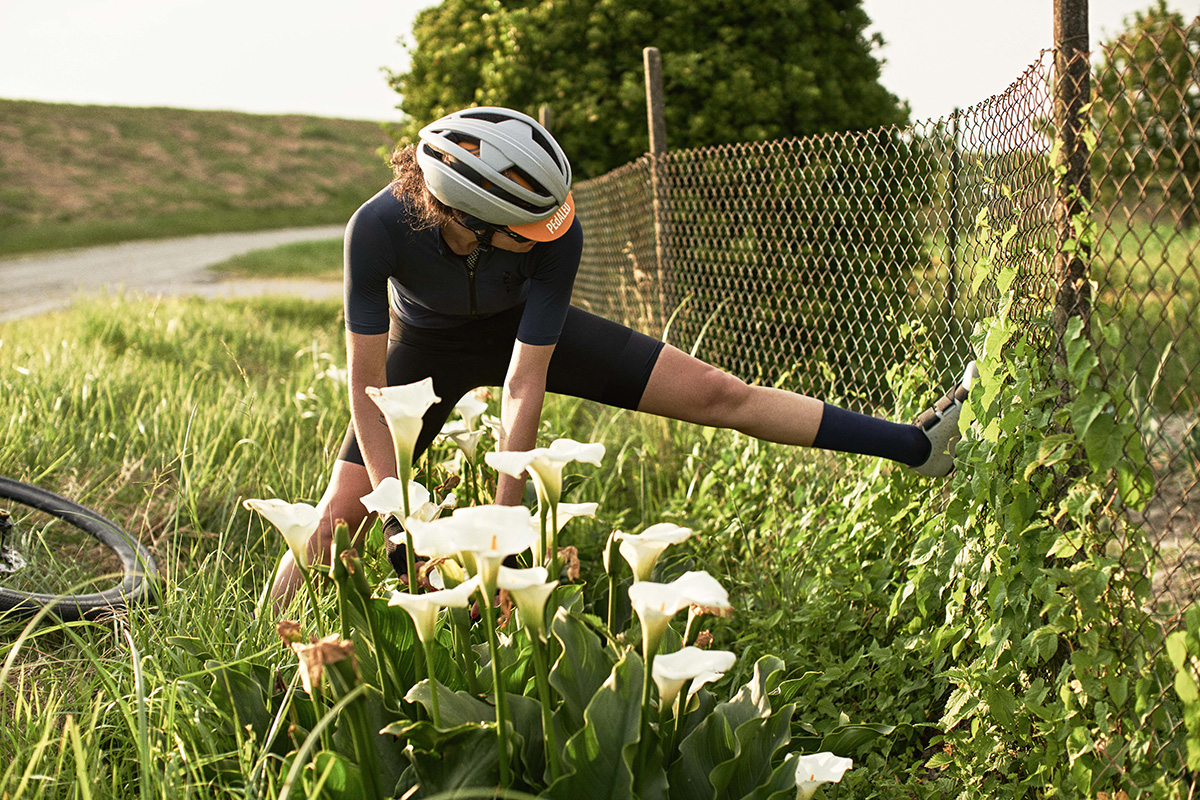 Belluno was a peony, Jesolo calla lilies, Abano Terme a magnolia, Polesine an onion …
Polesine was fun, full of character, with dreary and crumbling architecture, filled with endless fields of wheat, carpets of grass, onions, some rice fields, and tractors of all ages and sizes.
The atmosphere heats up on the wheat fields, which reflect a warm light that almost seems like yellow desert. The owner of the bar where we drink a double espresso after riding for more than an hour without breakfast greets us by asking us to take off our masks because his town is Covid-free. So we do.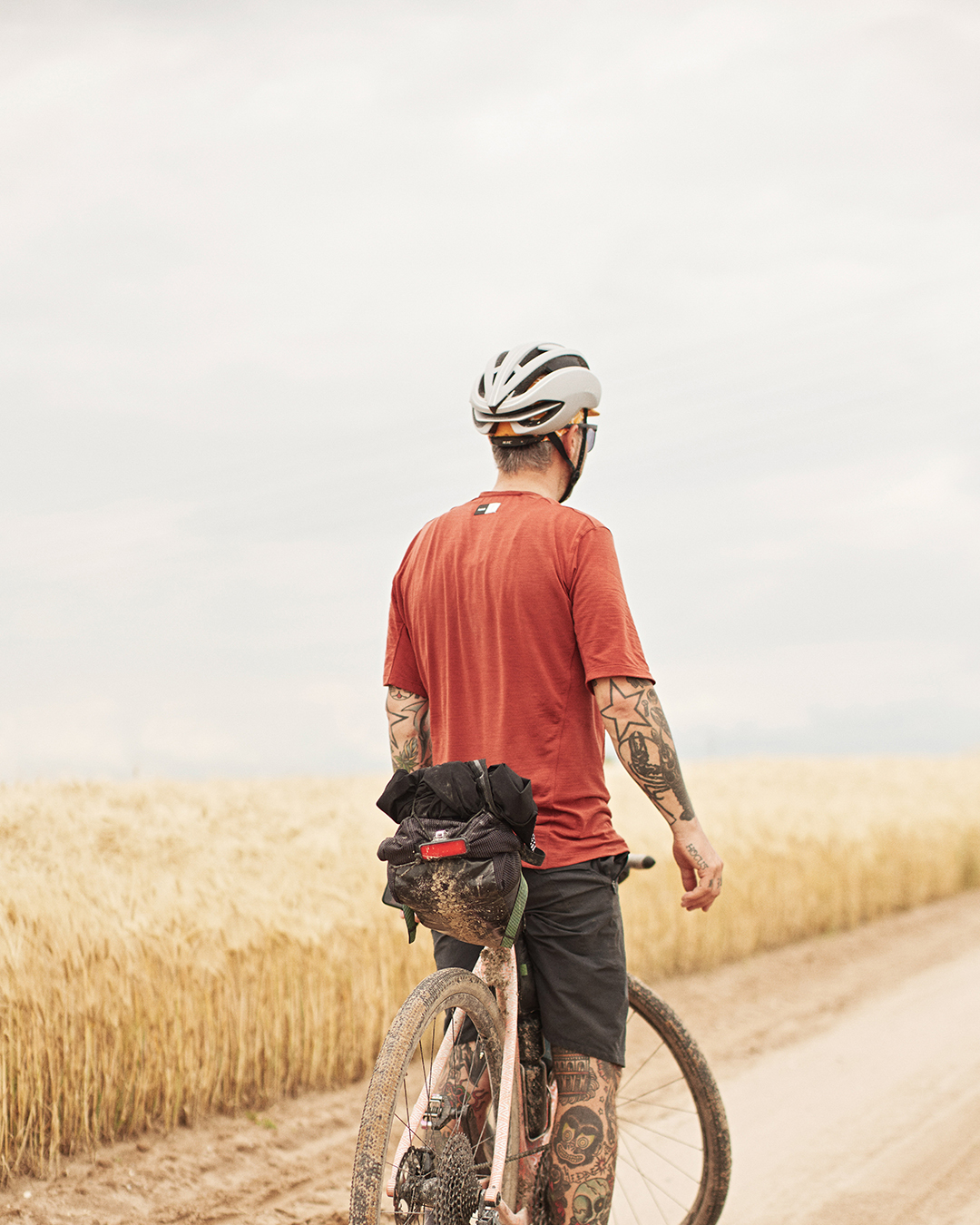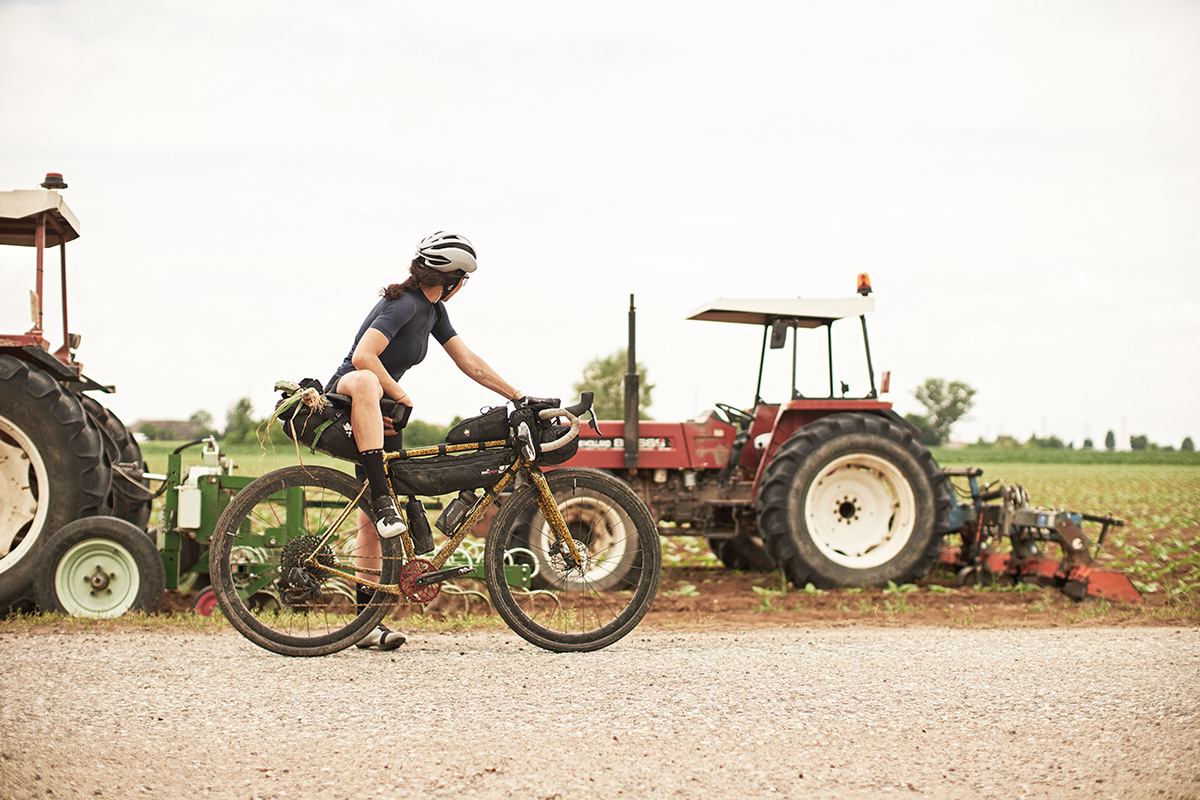 It was pouring in Verona, so we have no photos, and by Lonigo we were so drenched that we took off some of our soaking-wet clothes. It was incredible on the first climb in the Berici Hills to gorge ourselves on cherries that were as swollen with water as we were, since it had rained hard there shortly before as well.
We've had our fill of cherries for the whole of 2021. In 2022 I think I'll be back to do it all over again.
The gravel descent after about 20 kilometers in the hills saw us off and gave the momentum to push hard toward home. Too bad the way home was a slight false flat uphill, but the cherries were enough to get us there, where, as usual, we sit outside the house to drink and eat whatever was in the refrigerator.
The children didn't see us arrive. Predictably, it was too late. Start late, finish late …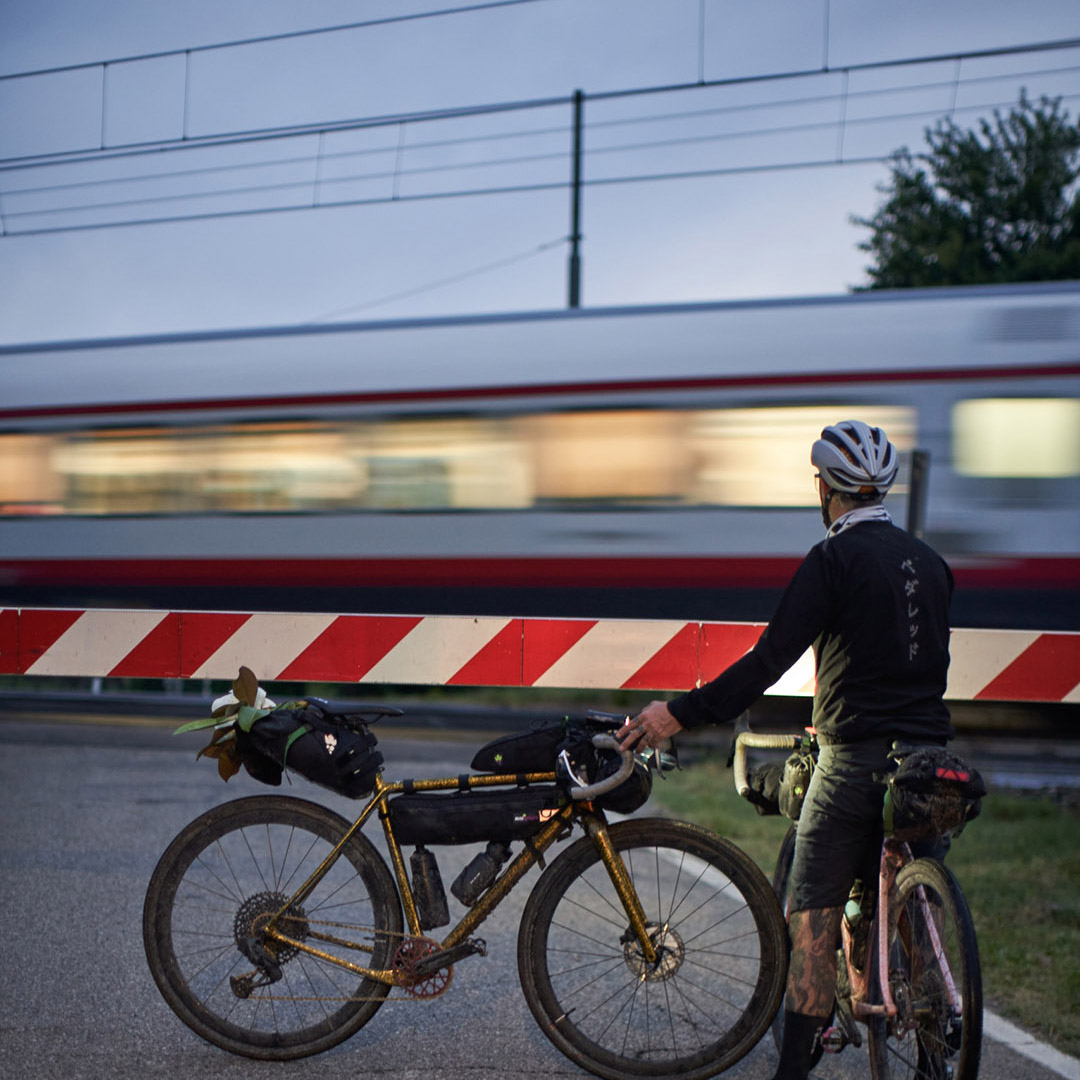 Make sure to follow Cento Canesio (@cento_canesio), Nadia Moro (@nadiamoro)
Pictures by Nadia Moro
(@nadiamoro)