"The Canary Islands have for some time been considered a must-see destination for traveling cyclists. But what route does one follow when they simply must see all of this incredible archipelago? Linking six individual islands, each connected by ferry, GranGuanche is not one, but three cycling routes—road, gravel, and trail—each designed to take travelers through the heart of this cycling paradise. Recently, Cento Canesio and Nadia Moro undertook the epic gravel option, sharing their experience through the words and images below."
Islands in the middle of the ocean, where you can ride without too much stress because the ferries slow things down and make you feel like you're on vacation, even when you have to notch up four or five islands in a row in just a few days.
One after another you cross them, you string them like beads and you take them with you.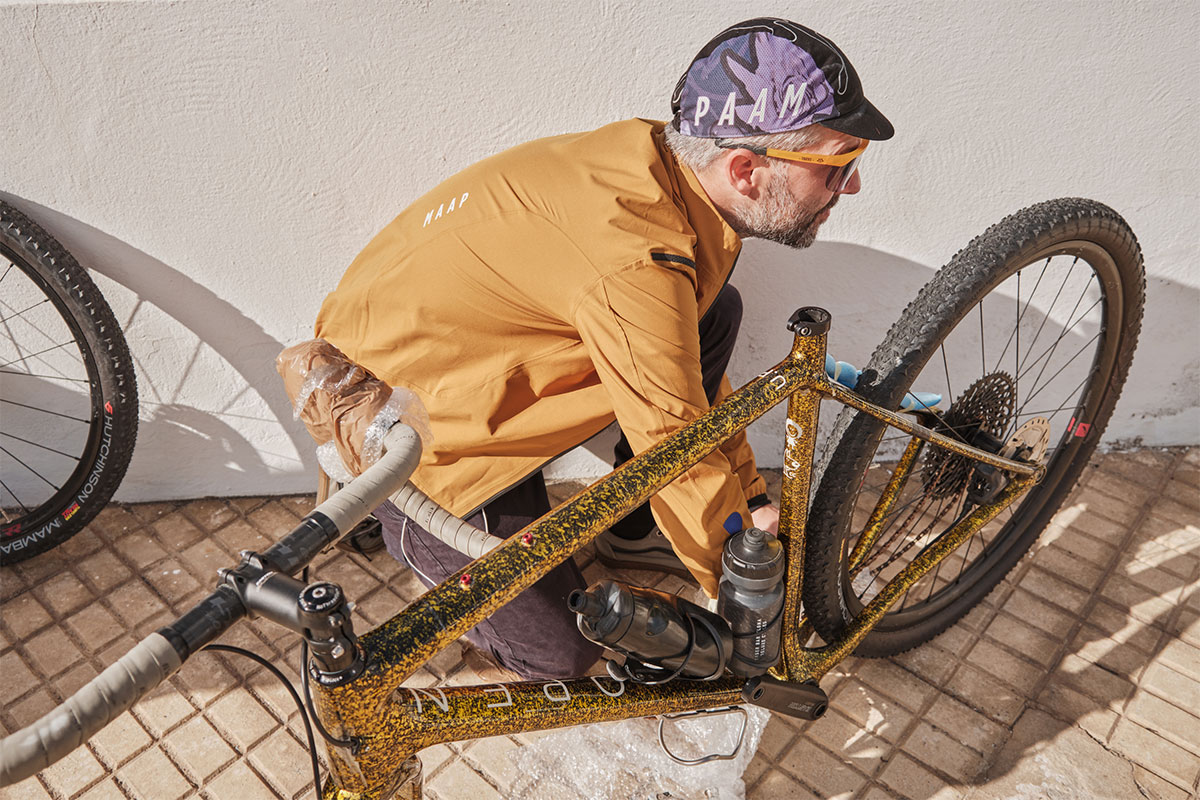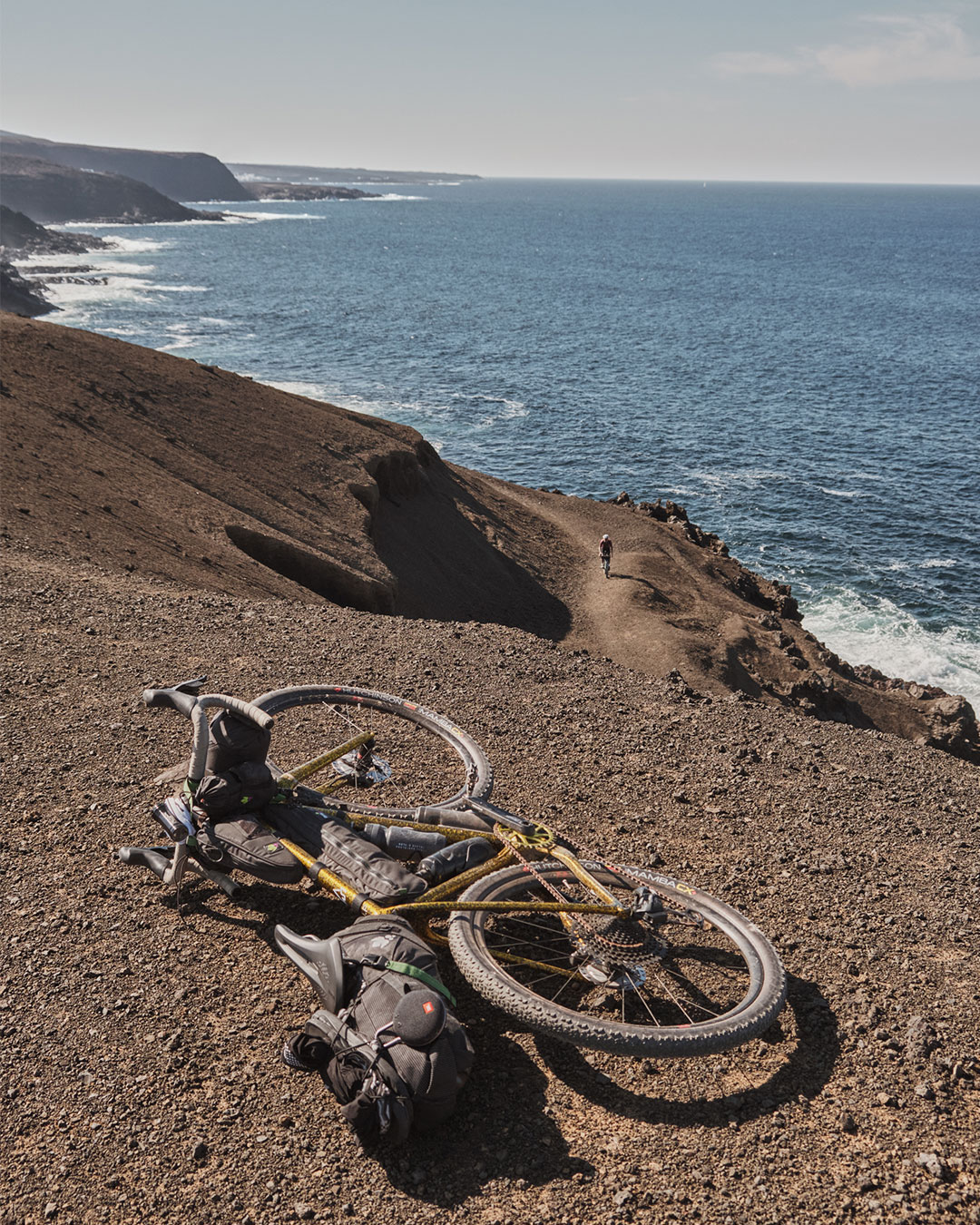 Who has never thought, after arriving on one or more of these islands, "I almost want to move here to live" … especially if you're coming from some gray, crowded, polluted metropolis.
Matteo with the Granguanche did this — a good example. He seems like a very relaxed sort, extremely meticulous, who knows what he wants and how to get there, always ready to take an engineering approach. The Granguanche is a case in point.
Lanzarote smells of light and dark earth, of bays where you can surf even when you're passing by on your bike.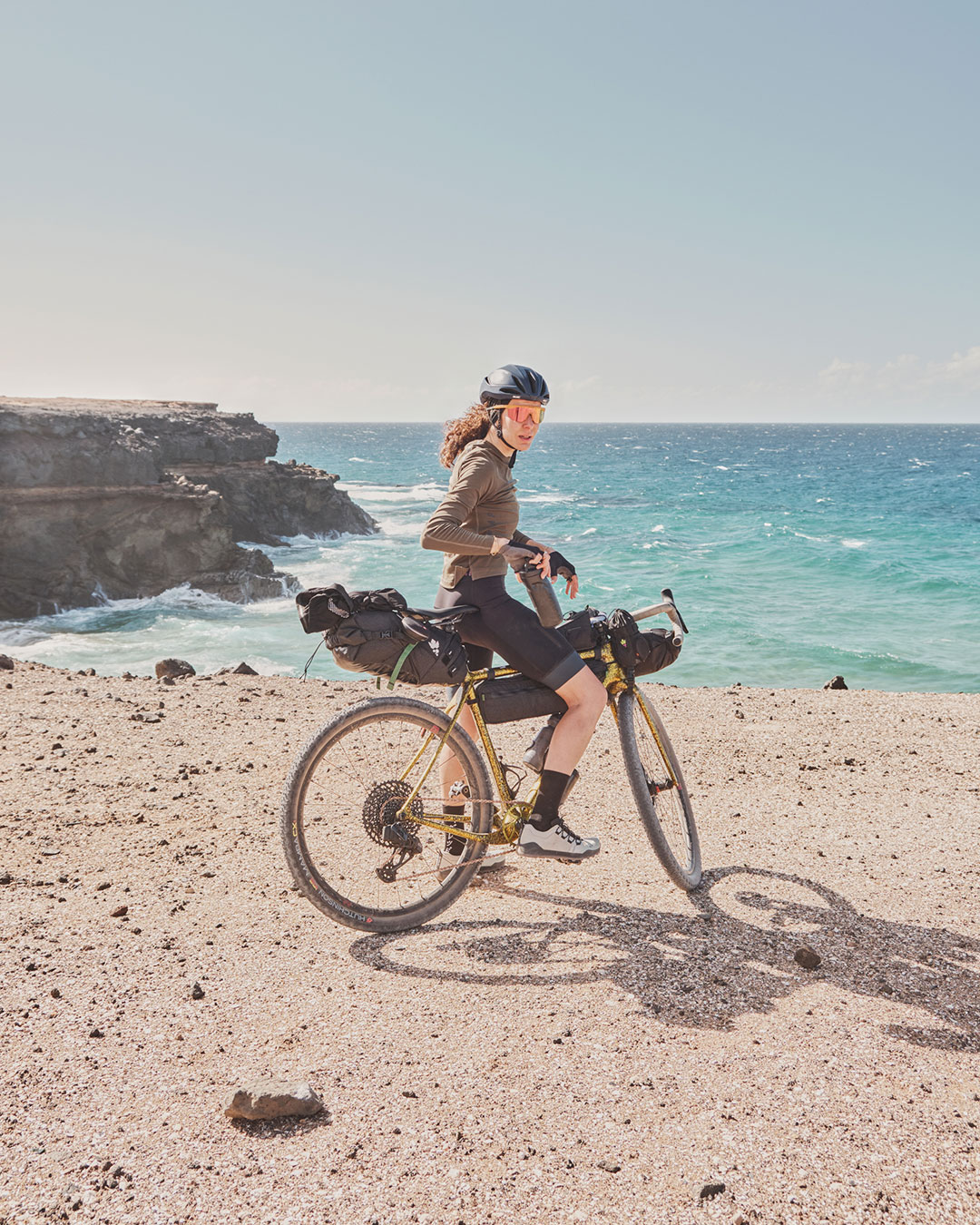 In the off-season a quiet, isolated land that's never too bad.
Scattered lava with craters of all sizes, to remind us that not all that glitters is gold …
Fuerte Ventura, though, reminds you that it's always windy and that mi cabra es tu cabra, in the desert, along the cliffs, or climbing the mountain passes to descend on the other side and add this island to the string as well. 

"A baby cabra caught our eyes and captured our hearts. It stunk but we stunk too, so it's fine."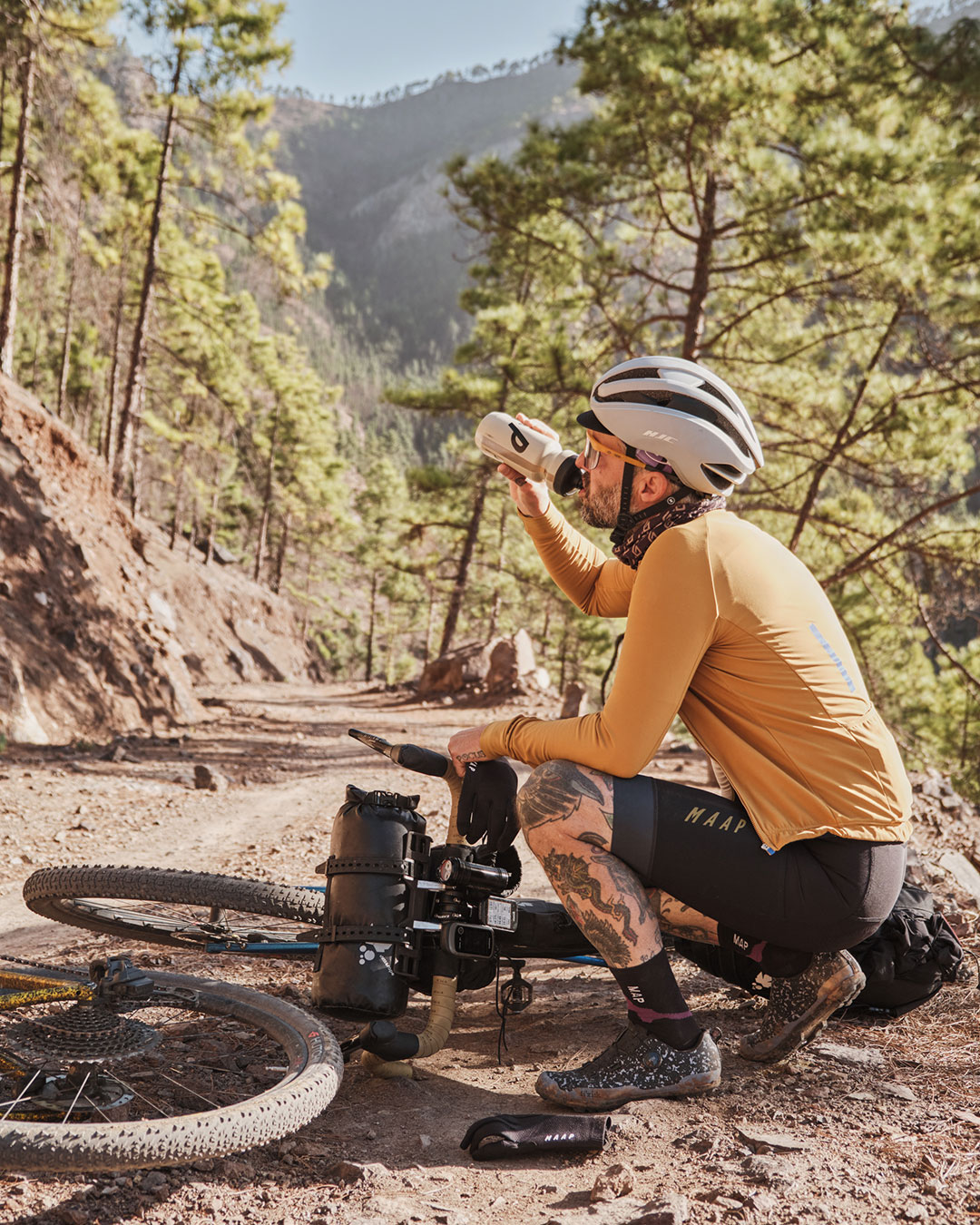 And it made us feel how we wanted and where we wanted.
Like the first, second, third, fourth, fifth night, whether it was in a tent or in accommodations arranged at the last minute.
It was nice to find a small rock fort that sheltered our tent from the wind along the south coast of furious Ventura. Too bad a seagull managed to break into the backpack with our food for breakfast before we came out of the tent in the morning … Damn bastard.
It was fun sleeping at the ferry dock on a bench (Ste on the ground as usual, but not me because I'm afraid of mice) to be ready for the transfer from Fuerte to Gran Canaria. The charming ferry attendant begged us that night not to sneak in to sleep on the ferry or he'd lose his job, and he made sure to come wake us up at 5:00 in the morning to urge us to get ready for departure …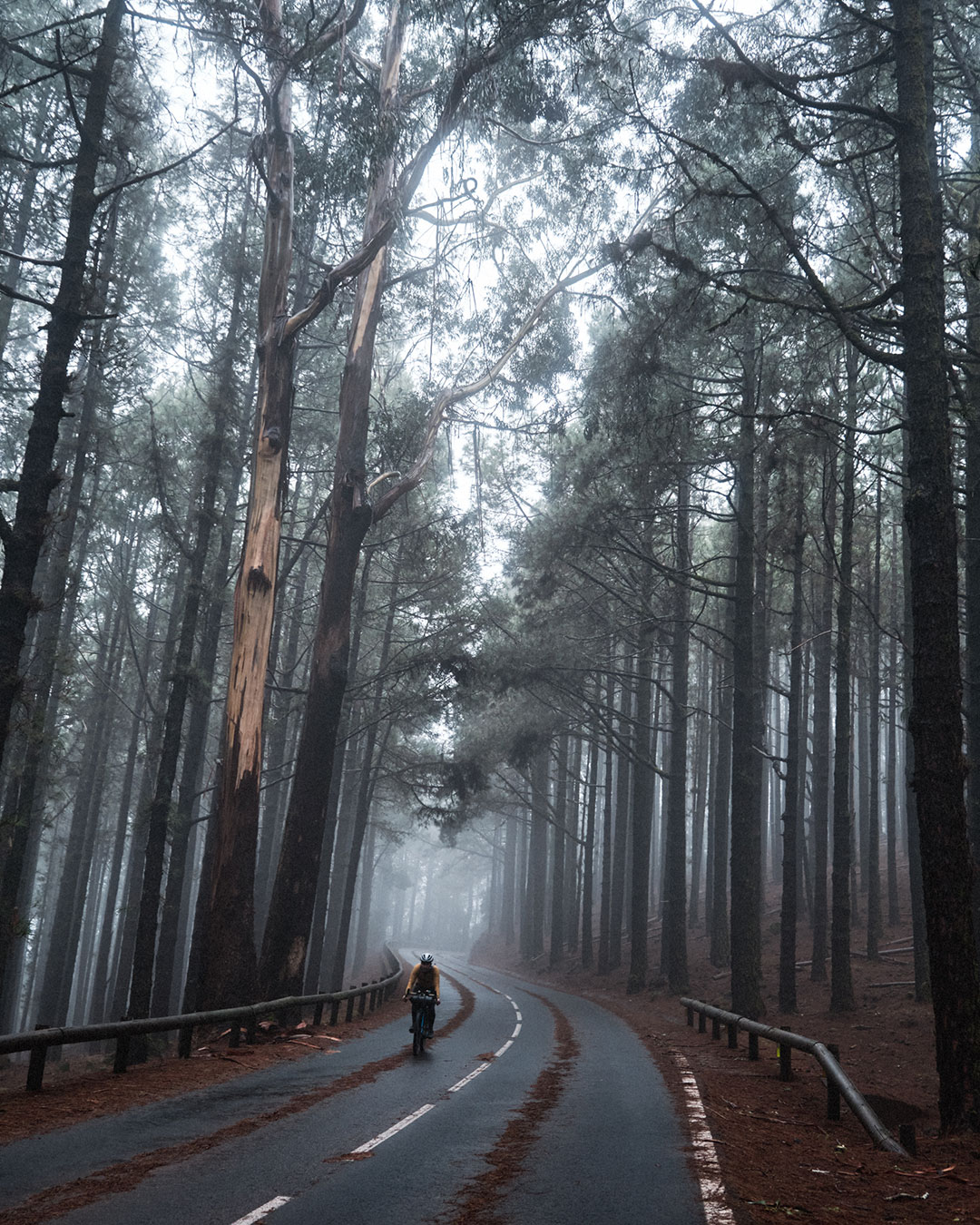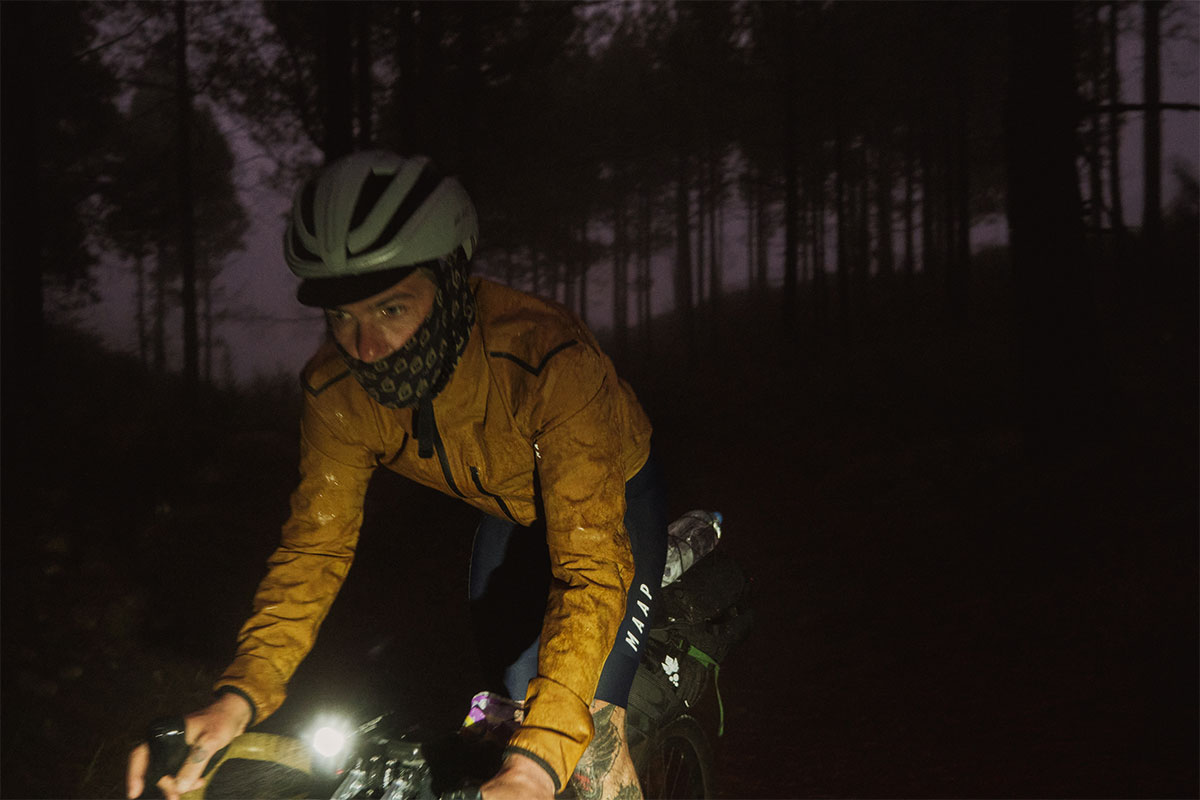 You reach Gran Canaria a bit relaxed, unaware of the ramps that will take you to the top of Pico de la Nieves. There I felt a little less at mi casa/cabra, etc. … Especially when the off-road ramps are spiced up by gusts of wind in changing and unpredictable directions, wet with rain and black as night. An interesting mix. I screamed at Ste to take the curves inside … On gravel and without guardrails, it would be hard to figure out where to find him if he were blown away by the wind.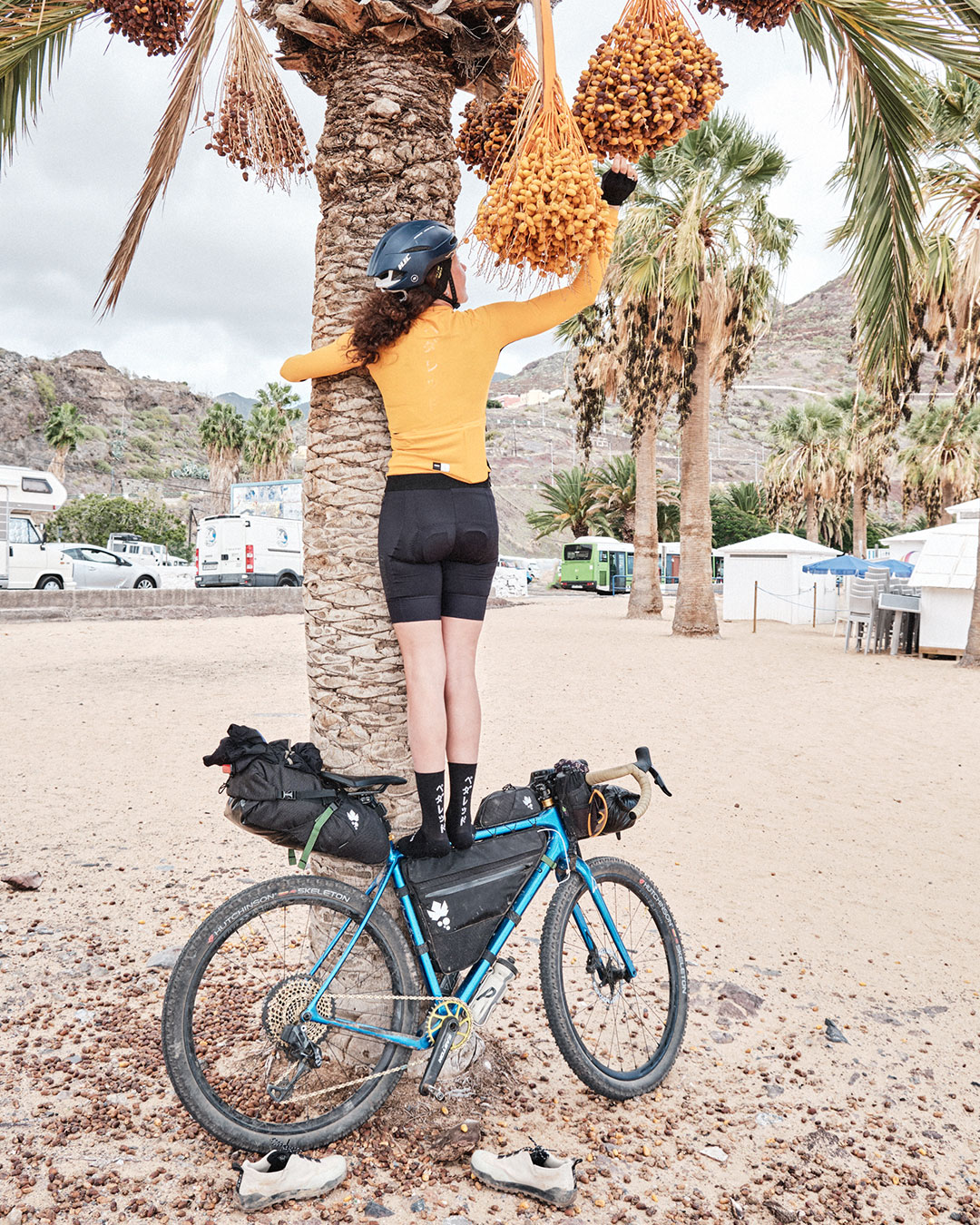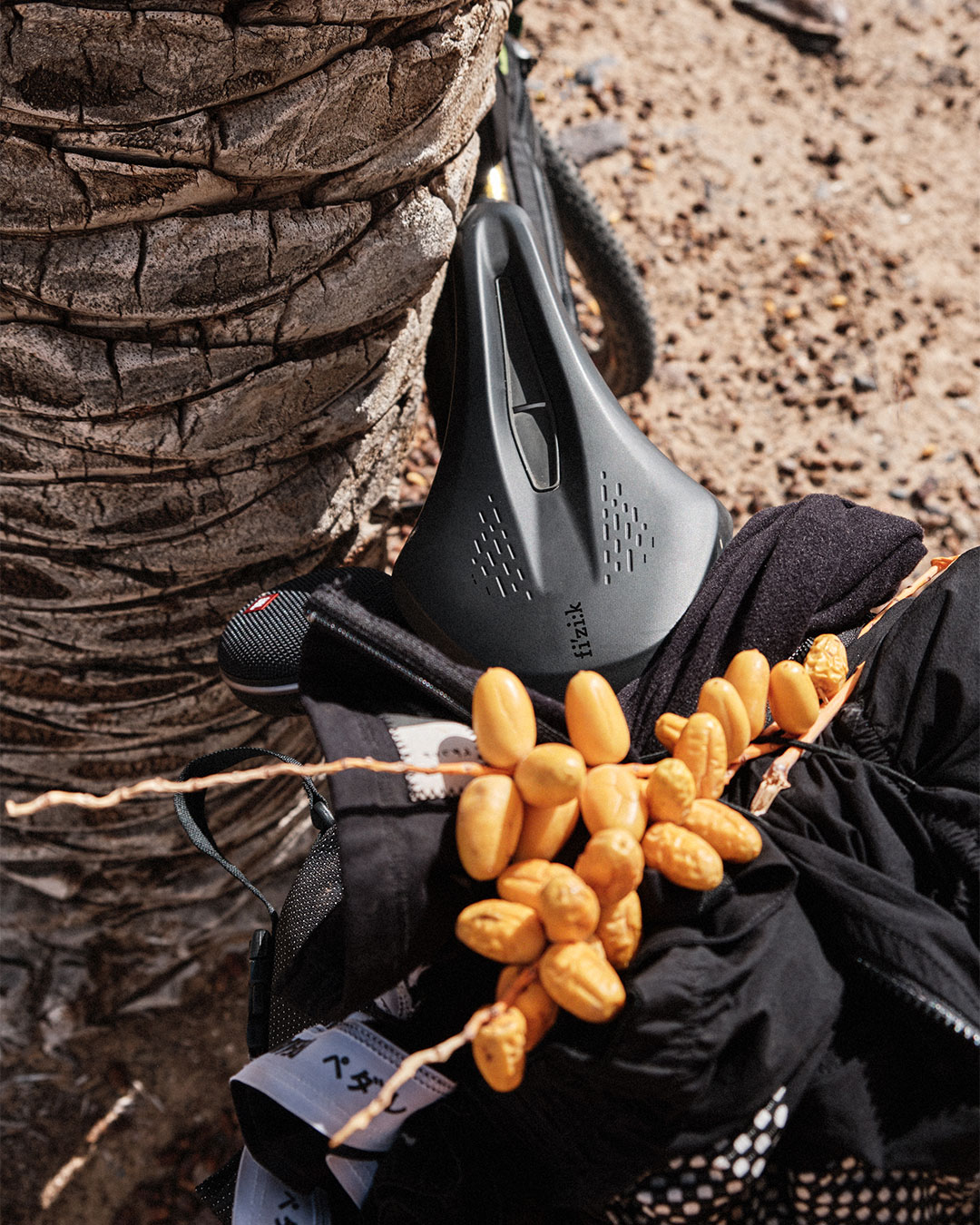 And then if you take the wrong road and have to climb back up an extra 500 meters for nothing, you feel like a real idiot.
But we had fun, especially the next day, descending with a view over the ocean and the sheer cliffs rising from the water. Then with the sunset …
Tenerife, great love — green, barren, desert, either dark or light — it has a little bit of everything. Even people in the dance club who'd take you home.
Teide won us over. Climbing among those pines loaded with moss and lichens, I felt like a hobbit on two wheels.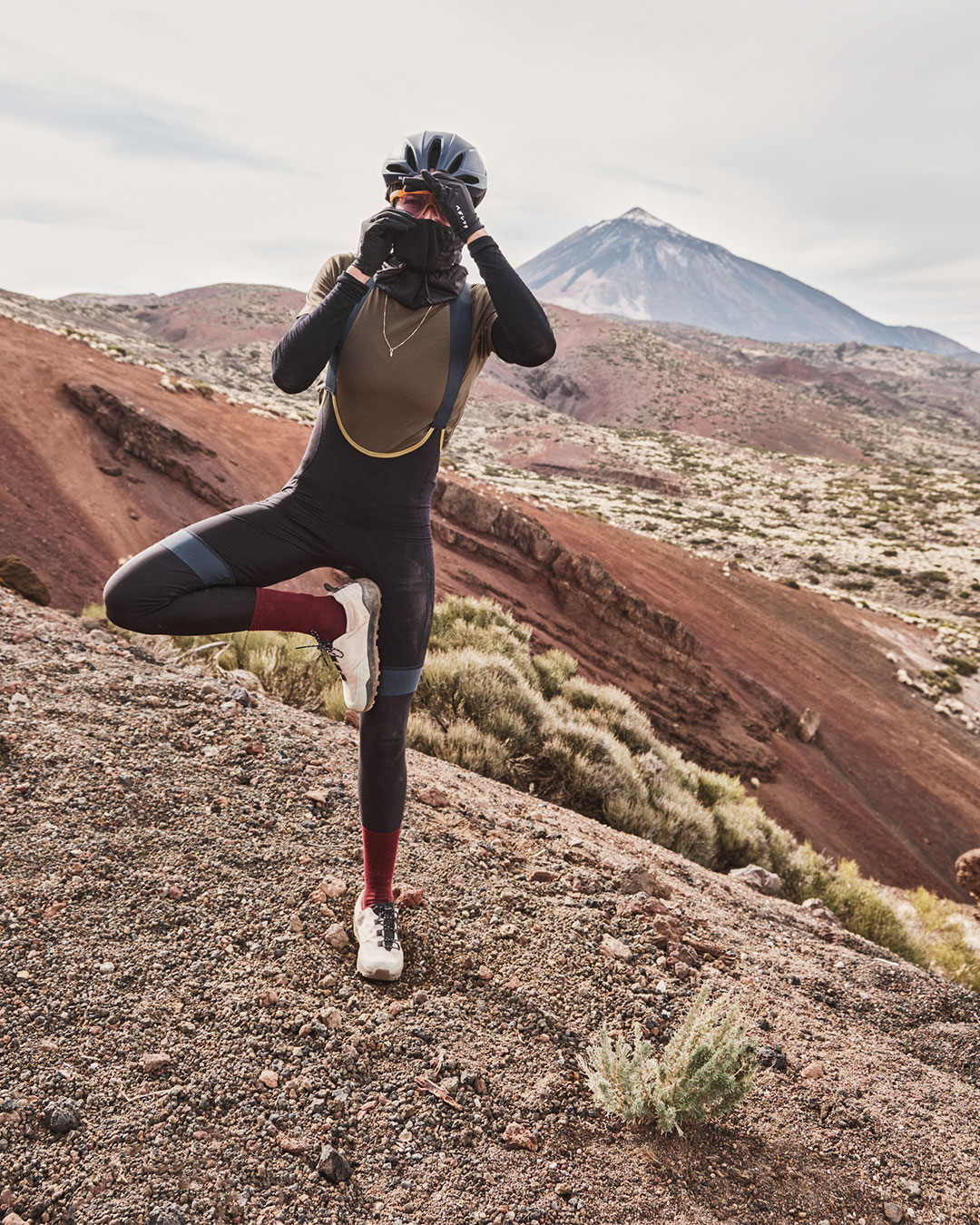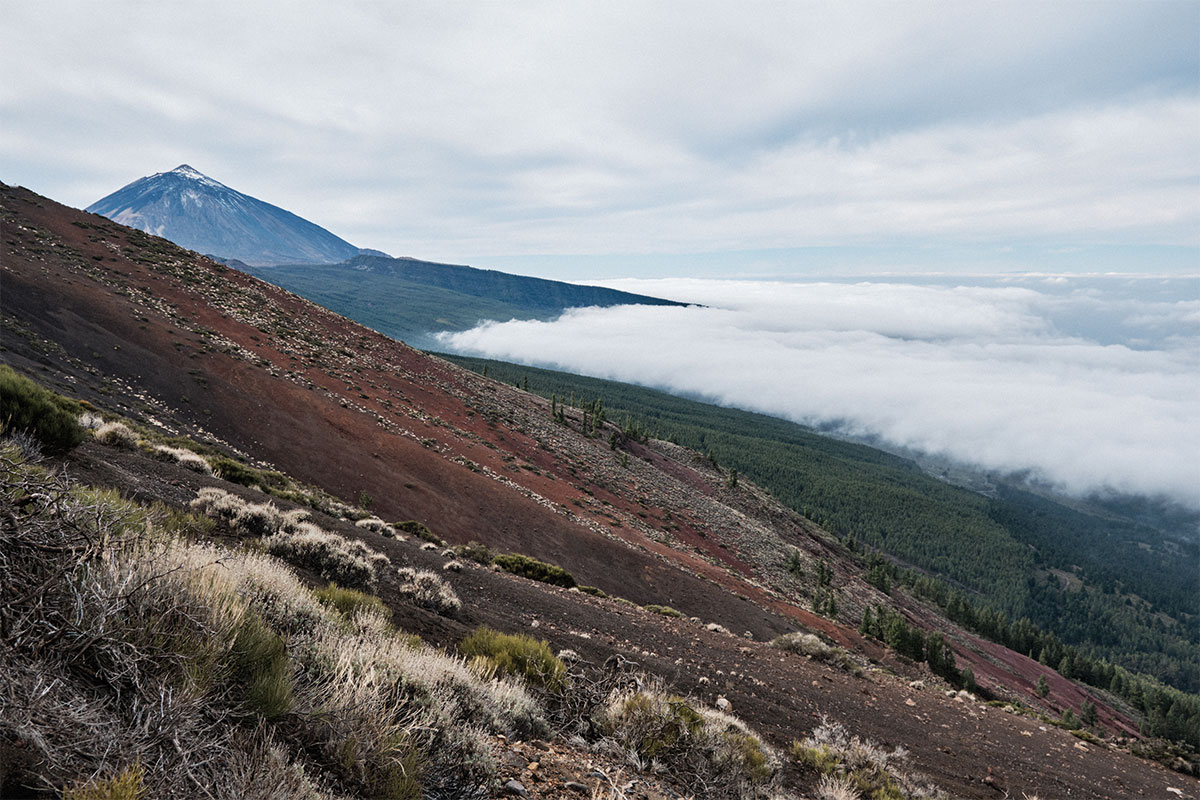 Fortunately, after all this the open sky returned, above 2,000 meters.
A roller coaster of temperatures, weather and humidity until you glide to the coast after 40, 50, 60 kilometers of descent, and if you're lucky you end up in some karaoke bar for tourists at the beach and you feel at home there too, especially if the place is managed by and filled with Brits from Manchester.
It's true, mi cabra es tu cabra, and the Canaries are a place for many but not for everyone (let's not fill them up — they're beautiful like this).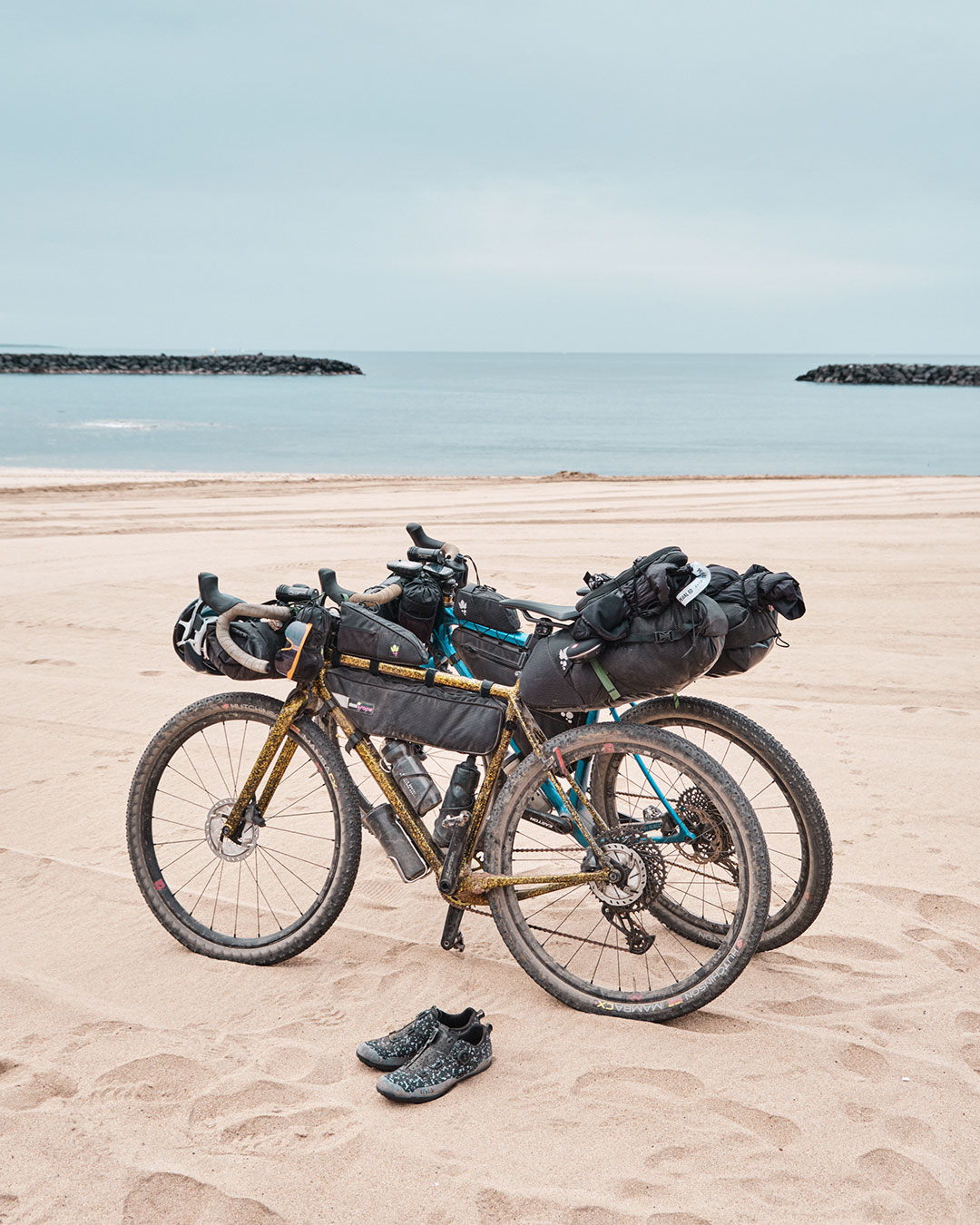 Photos and words by @nadiamoro