Each year, as winter fades into spring with summer just around the corner, riders and fans welcome the warming weather by gathering for some of the toughest single day races in the sport of cycling. For one week in April, however, the intensity gets focused on the Ardennes for some of the steepest Classics on the spring racing schedule. And while this year's delay may mean temperatures are trending in the opposite direction, the competition will be no less heated at La Flèche Wallonne.
Typically holding the central position as the middle race of a week in the Ardennes, La Flèche Wallonne is neither the oldest nor the most storied of the Ardennes Classics. No, it's not how this particular race started that earns its credence, but instead how the race finishes each year, at the top of the notorious Mur de Huy, one of the steepest finishing climbs in all of cycling. With an average gradient nearing 10% and topping out in points at 26%, chasing victory on the "Wall of Huy" once is difficult enough, but in La Flèche Wallonne, riders must tackle the climb three times, ending on the final ascent and making patience and strategy of equal importance to strength.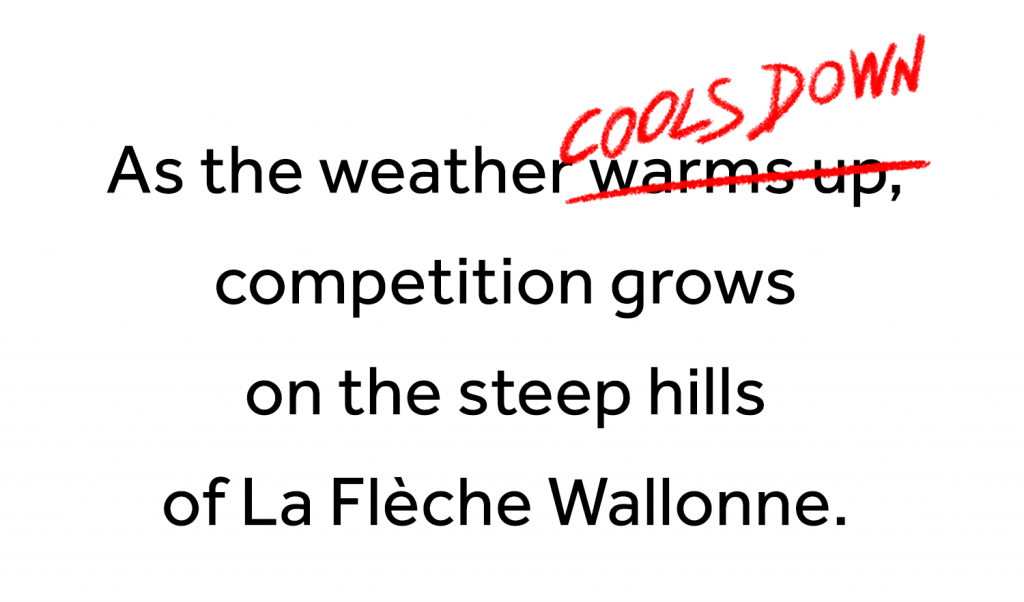 This year, La Fléche Wallonne marks the opening of Ardennes Week, with Liège-Bastogne-Liège and Amstel Gold soon to follow as newly and temporarily deemed Autumn Classics. There are other changes, too, as the race kicks off for the first time from the municipality of Herve and the competitive field shifts, with a host of new starters itching to make their impression on the race. Yet the Mur de Huy, the one great constant, awaits to offer repeated punishment on its steep sides as 200km of racing come down to the final 128 metres.
Join us as the weather warms up and competition grows on the precipitous streets of La Flèche Wallonne. (cools down)