As the oldest of cycling's Five Monuments and one of the toughest single-day races in the sport, Liège-Bastogne-Liège has played host to many big moments over the years, from harrowing, snow-covered breakaways to countless close sprints to the finish. But one thing this classic contest has never featured is an autumn start—until now.  Moving from late-April to October, La Doyenne, or "The Old Lady" as it's also known, may be losing its place as the last Spring Classic of the year, but it is sure to retain all of its regular excitement as riders line up for an epic out-and-back across the hilly Belgian countryside.
First held in 1892, Liège-Bastogne Liège has experienced a few interruptions over the years, the majority occurring during both World Wars, as well as minor course changes, the most recent being last year's return of the finish to the city centre in Liège. But overall, for over a century, the spirit of the race has stayed the same: cyclists must ride from Liège to Bastogne and back, taking in some 257 km and 5,000 vertical meters of climbing along the way. First one back wins. Yet with steep gradients and eleven categorized climbs standing in the way, the concept may be simple, but its execution is anything but.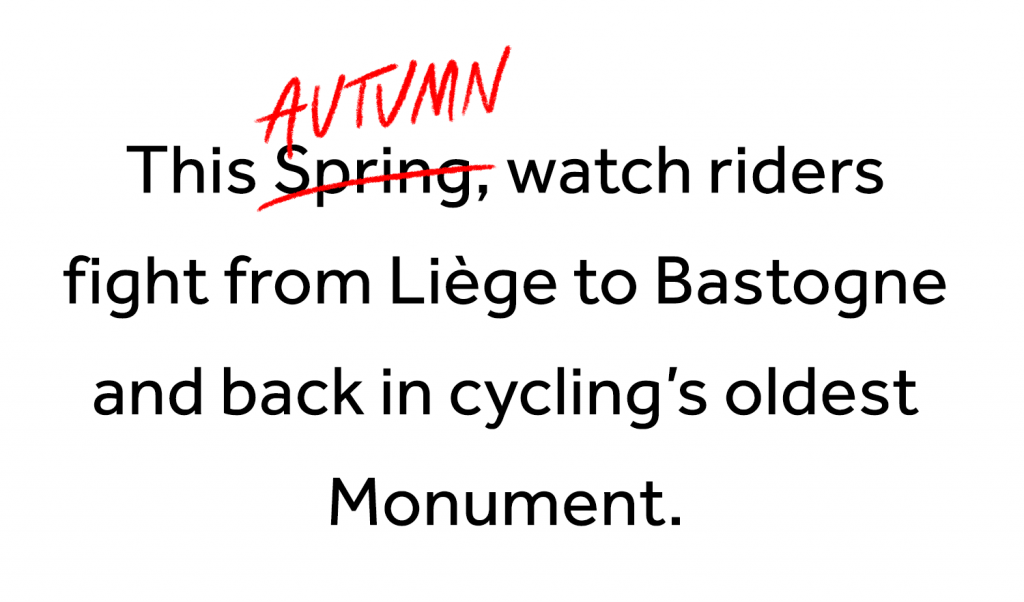 Adding to the challenge is the notorious Belgian weather which typically shows up with rain, wind and sometimes snow each spring—and already looks poised to do the same this year, despite La Doyenne's change in start date. With a field full of talent and a comparatively flat finish, look for early escapes and close competition as riders aim to claim glory this spring (autumn) in the hills of the Ardennes.