For most, conversations about family vacations often bring to mind visions of childhood memories: long car rides, busy tourist sites and fights with siblings. But that's not the case for Downhill and Enduro athletes Caro and Anita Gehrig—at least not these days. Recently, as the twins prepared to set off for a four-day bikepacking trip through Switzerland and Italy, they received a surprising request. Their 66-year-old dad, Karl, wanted to tag along! Despite their planned long distances, large climbs and nights spent out under the stars, they happily welcomed him aboard. All he'd need to do first is find a bike to ride.
"Our trip started a few days later," Anita recalls. "We looked like Eskimos wrapped in all the clothes we had brought with us, standing atop the 2,149-meter Ofen Pass." The trio had traveled by train, then bus, to reach the starting point for their cycling trip, met upon arrival by wintery conditions but hopeful that spring would be waiting further down the road. "We were excited about what the next few days would bring. We were going on a family adventure."
Day one was scheduled to be the longest of the trip, covering 200 kilometers from the high mountain pass, across the Italian border, and onward to the town of Rovereto. "Fast-paced towards South Tyrol, the apple blossoms had just reached their peak," Anita explains, "and the bike path meandered through orchards for kilometers." Happy to enjoy the higher temperatures the lower elevations were providing, the family still had a long ways to go before they could call it a day. "We had never ridden so far in one go, but the route was mostly slightly downhill and should therefore be easy—at least, that's what I thought to myself while planning." But they hadn't taken into account the strong headwind they'd find themselves fighting all day long.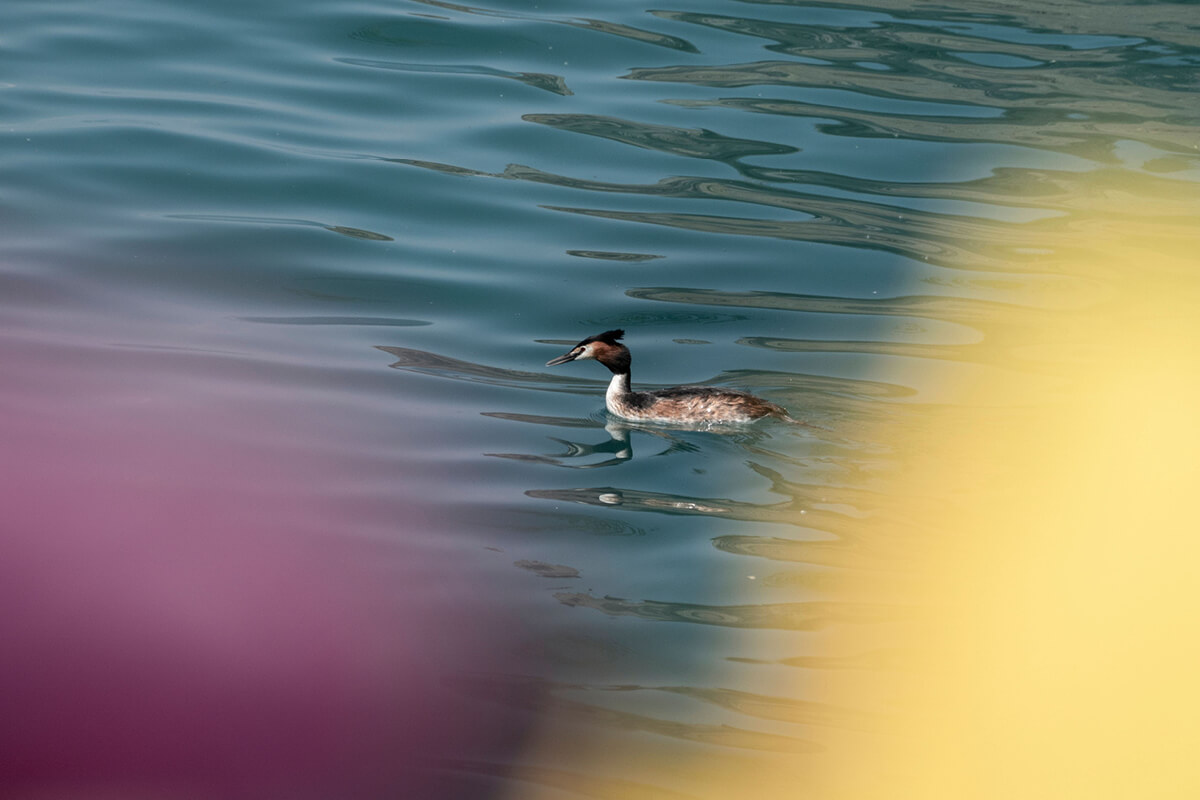 "We finally reached our destination at Rovereto," Anita says, "stinking of sweat and a bit bruised, but we couldn't help but laugh. 'Papi, you legend. Like vagabonds, we sit with our takeaway pizza and beer, and you're right here with us, enjoying all this nonsense!'" Bivouacking beside the bike path, the girls helped their father set up camp before calling it a night, waking the next morning to a pleasant surprise. "We expected our father to say something like 'Everything hurts' after all the hard riding, but he was in a good mood, full of energy and ready for action!"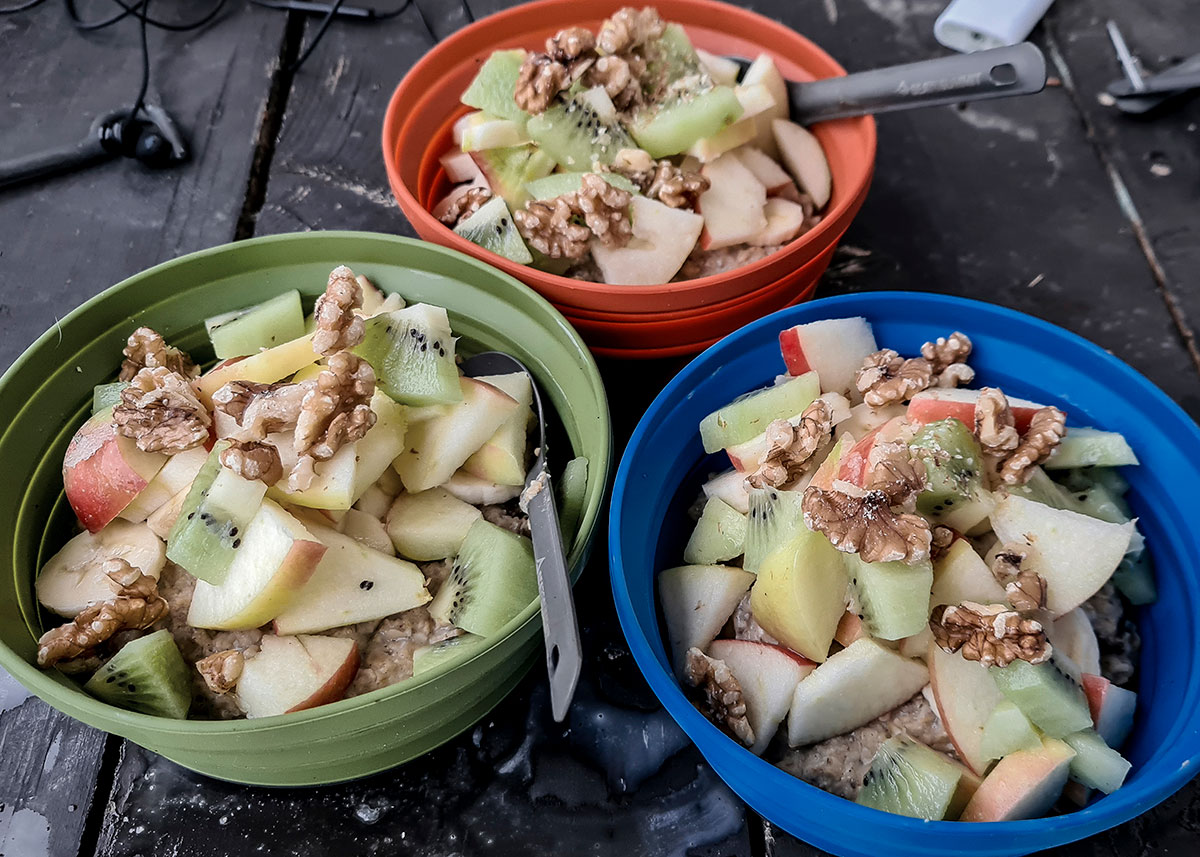 After enjoying a quick breakfast and helping Karl repack his camping supplies, they were back on the road and rolling; 150km stood between the trio and Santa Caterina, with a lot to see in between. "The landscape slowly opened up as we moved further and further away from the mountains of South Tyrol towards the Po Valley and along Lake Garda," Anita tells us. "In bright sunshine and warm temperatures, you can travel at a brisk cruising speed." But with legs tired from the previous day's distance and facing a bumpy bike path for the last 50k, Anita, Caro and Karl were happy to find a bit of relief in Santa Caterina.
"When we arrived in the small town, we longed for a way to cool off, which we found at the village fountain! We treated ourselves to a soothing shower in front of the amazed residents."
"The next morning, we'd have to get going faster, Caro and I decided after a quick look at the weather app," Anita remembers. With rain on the horizon, their plan, though well intentioned, didn't materialize. Between packing their own bikes and helping their father prepare his gear, they were off to another late start. "It's funny how we noticed the distribution of roles change; Our dad took care of us for half our lives, and now it is us providing him with this carefree adventure package: routes, food, planning and packing prepared. Papi is just here as our passenger."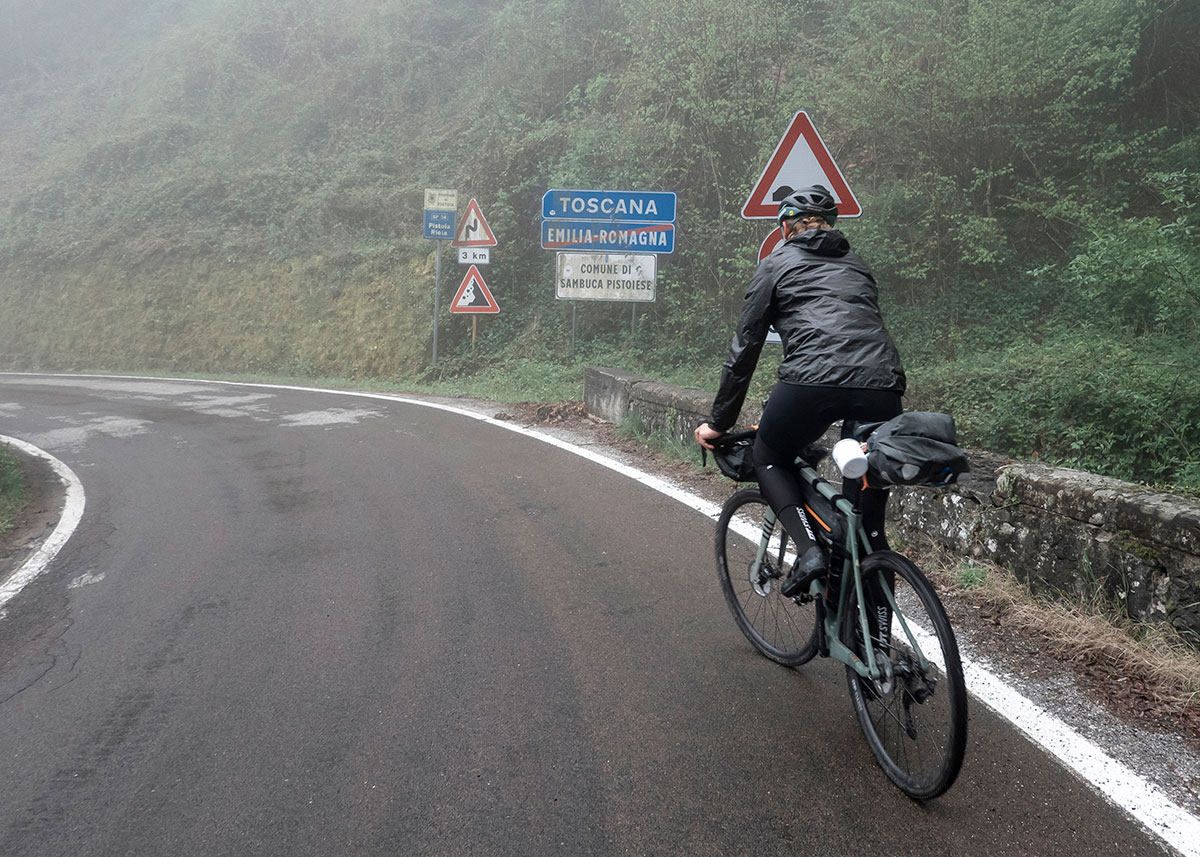 Before long, the rain had reached them, bringing with it a cool breeze—the perfect excuse for a lunch stop. The family found shelter in a local restaurant, ordering everything on the menu to satisfy their hard-earned hunger. Full, but still facing rain, they made their way out of town and into the foothills of the Apennines. "We knew we still had a fight ahead to reach our goal for the day, as steep climbs with tired legs are a real treat. We came to the agreement that, with so much luggage on our bikes, we should calculate our altitude difference at 1.5 times the rate. So really, we'd be climbing well over 2,000 meters today!"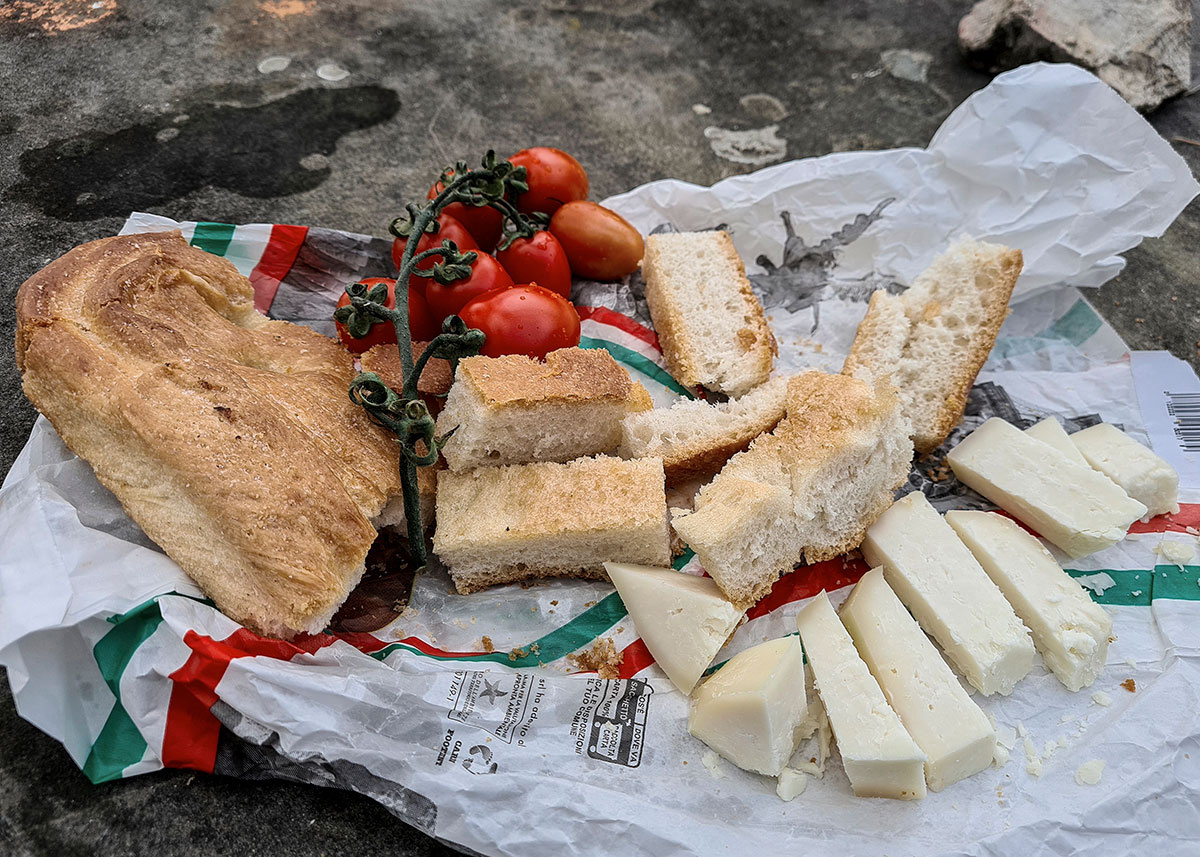 Ending their day with a chilly dip in Lago di Suviana, Anita, Caro and Karl spent the evening sleeping beside a small, empty house as rain fell overhead on the roof of the small terrace. The weather hadn't improved by the following morning, but with only 65km left in their trip, family spirits were perhaps the only thing not dampened by the downpour.
Instead, Anita recalls being even more thankful to have found suitable shelter the night before. "Luckily, nobody had come during the night and chased us away. We didn't even care anymore that we had to stuff wet equipment in our bikepacking bags. Tonight, we'd get to sleep in a real bed again!"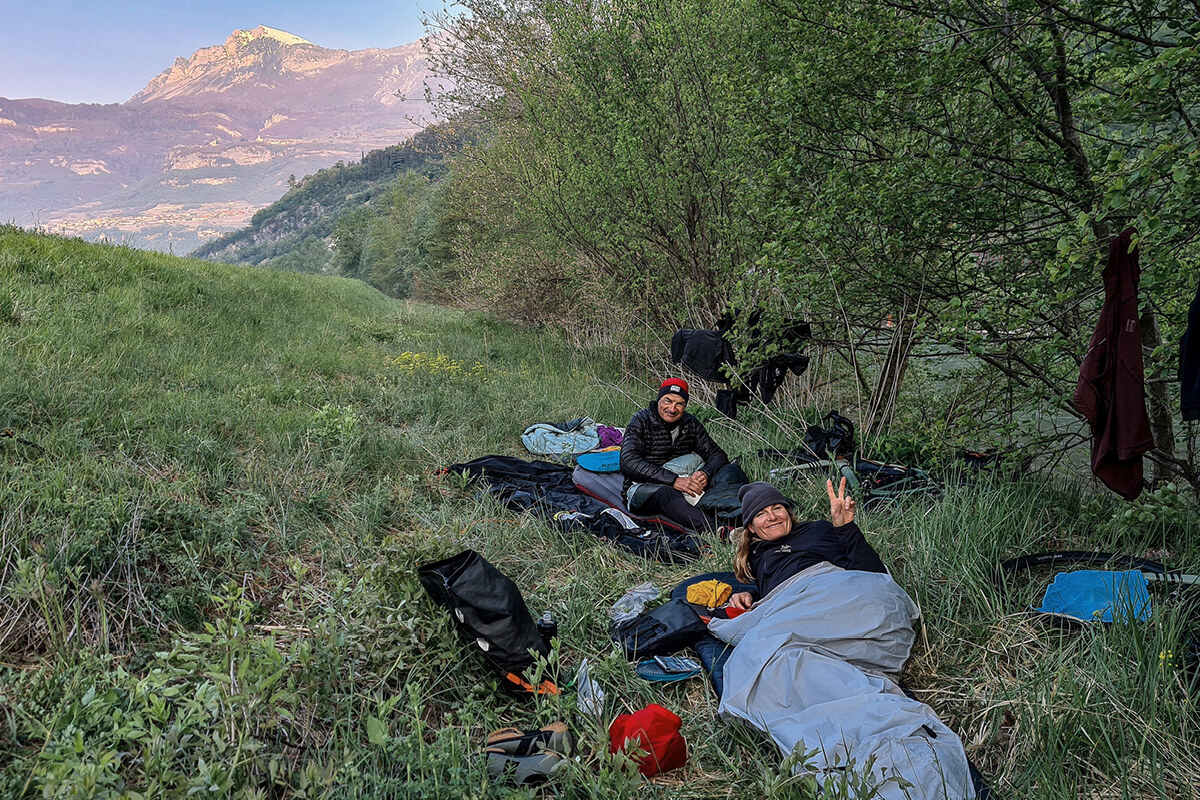 Ticking off the final kilometers over quiet, soaked roads, they made their way towards the finish line of their trip: the village of Montorsoli and the Accademia del Caffè Espresso, a museum and learning center run by the Gehrig girls' sponsor, La Marzocco. Greeted with hot espresso and enthusiastic congratulations from the museum staff, all celebrated the travelers' fortitude, especially that of first-time bikepacker Karl.
"The Italians were really impressed by the hardships our Papi had endured with us. As a silver fox, he deserves the most respect for moving so far out of his comfort zone," Anita states, sharing one final sentiment, "We proudly celebrate that adventure has no age, you just have to be willing to try."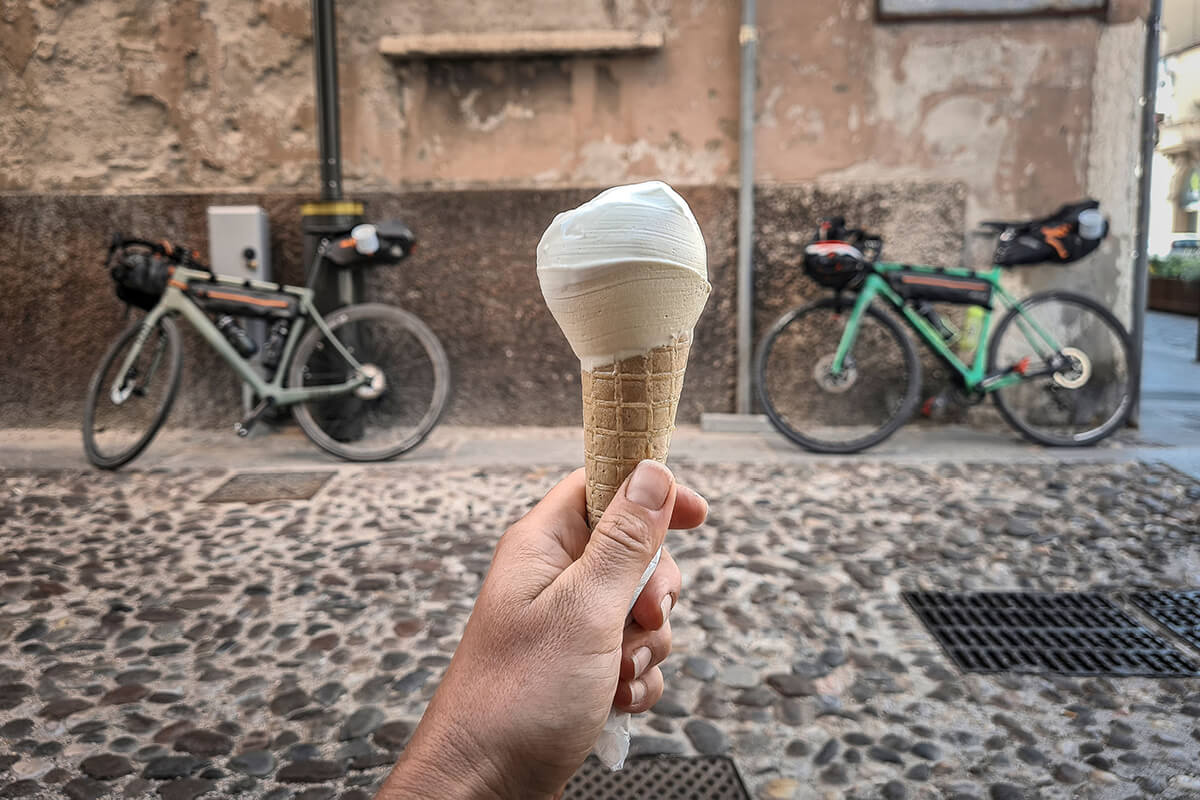 Follow all the twins' adventures on Instagram @caro_gehrig and @anitagehrig and maybe find a bit of inspiration to start planning your next family vacation.