Meet the newest fizik team to talk training, testing, team-building and how to make the best of the lockdown, in our exclusive interview.

At the start of their first year riding fizik saddles the Orbea FOX Enduro Team's four riders and manager Primož Štrancar had completed their pre-season test sessions and were all set to go to the first round of the 2020 EWS, when the Covid-19 pandemic bit the season's plans. We first caught up with the guys at their – muddy – camp in Lousã, Portugal, where they had been testing their new Alpaca saddles, and then again while they've been making the best of training during lockdown. Here's what they have to say about the current situation, riding with their new fizik equipment and raring to go racing when the season kicks off!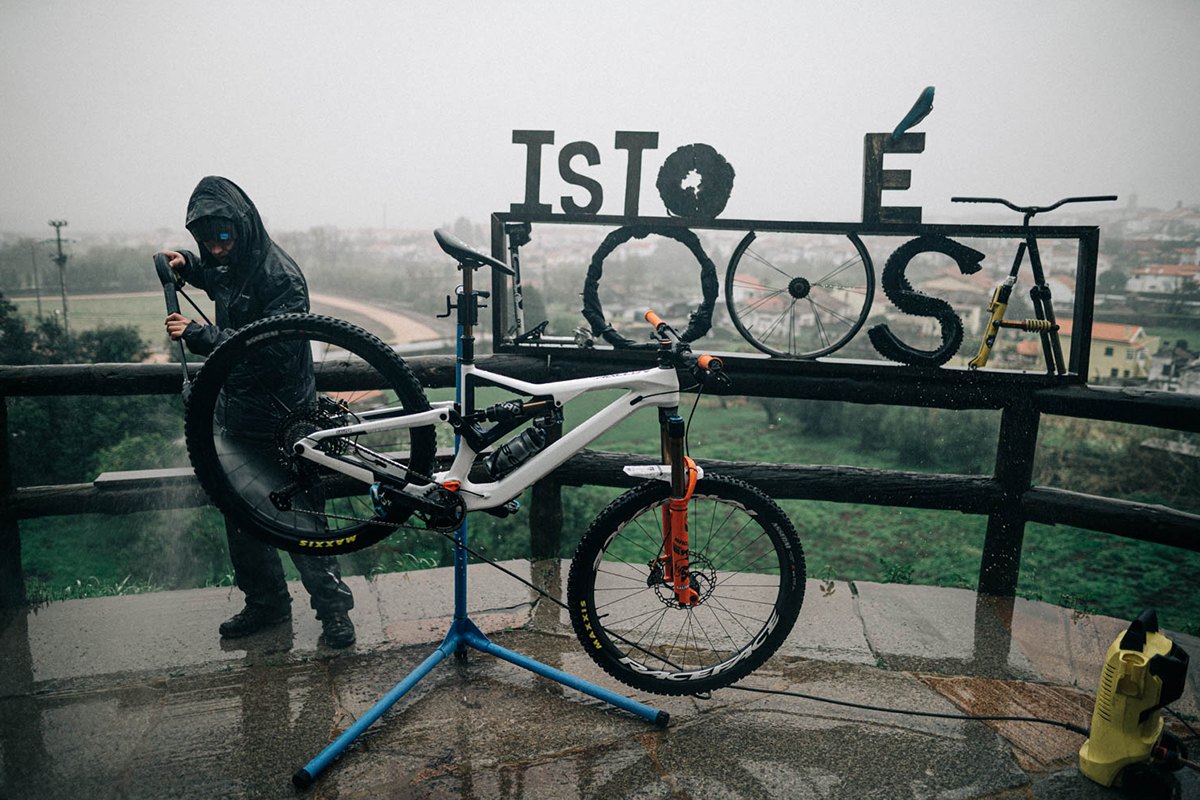 Primož Štrancar has raced in, and led, teams across mountain bike disciplines and was EWS Master Champion just a few years back. With riders Vid Peršak and Gabriel Torralba being joined for 2020 by Edgar Carballo and double EWS race winner Damien Oton, we asked him how it's going with the new crew…

"I like the structure of the team this season," the Slovenian told us. "It's a combination of experienced riders with a mix of youngsters. The atmosphere in the team is positive, everyone knows what to do. Lousã was our first camp where we could all ride together. We were testing the suspension and we had the opportunity to try out various components," said Štrancar.
TESTING THE NEW KIT!
The team were keen to use the opportunity to test their new Gravita Alpaca – designed with a slimmer profile and more rounded contours for fast fore-and aft adjustments on aggressive downhill riding, and  Terra Alpaca – made with a wide, flat nose and slightly waved tail, specifically for all-mountain and enduro riding. With the four riders of varying levels of experience, different heights and weights and, of course, with their own riding styles, letting them loose on the saddles in these tough conditions is a great test, providing useful insights and endorsements.

"The new fizik saddle is great," said the experienced Damien Oton. "First they're looking great. I tested the Gravita Alpaca. When you touch the saddle it looks very hard, but it is very comfortable."

Edgar Carballo is on the same wavelength. "The fizik Gravita Alpaca, I think that they have a great commitment to comfort, aesthetics and it's very compact. The Terra Alpaca also looks really good. I will test and let you know!"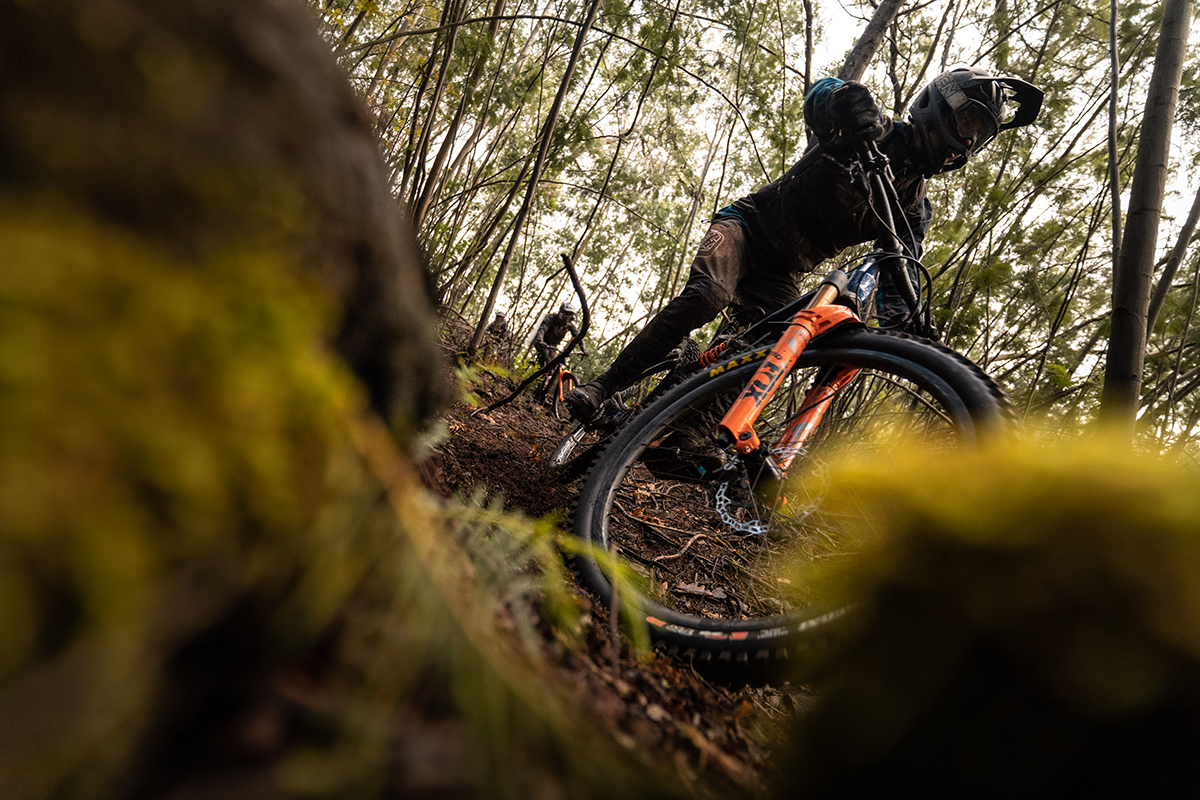 Gabriel Torralba has been riding with both the Gravita Alpaca and the Terra Alpaca and comparing the two. "They both look really good," reports the 22-year-old, "but after testing for a few days I have the feeling the base of the Gravita Alpaca is a little flat for me. I feel more comfortable with the Terra Alpaca."

Looking forward to the enduro season when it gets underway, the team are familiar with the demands of combining timed downhill sections with longer transition stages. EWS guidelines say: 'Special Stages should aim to contain a maximum of 10% ascent and at least 90% descent'. To succeed, gravity-competition ability must never be compromised, but XC-style pedaling efficiency and trail-level comfort also matter so components, such as these fizik saddles, are specially designed.

"Enduro is very specific," explains Štrancar. "A rider on a timed stage hardly sits: the saddle is used more as a checkpoint of where the bike is, and the dropper seatpost is in the lower position almost all the time. It's completely different when it comes to long transfers to the start of the timed stages. This is where we need to provide the athlete with the comfort, efficiency and energy conservation. This is important because riders are in action for up to six hours a day."

The young Slovenian Vid Peršak tested both fizik saddles with this challenge in mind. "During the stages I use a saddle especially when the climbs in between are mellow and flat," he told us. "I use this time to sit down and put all the power in the pedals so I'm not using that much energy.

"I was riding for a week with the Gravita Alpaca which is a great choice from the downhill perspective. Then in Lousã I had a chance to try the Terra Alpaca which gave me a more comfortable position on pedaling, even after a long time. On the downhill I didn't notice any problem with moving back and forwards on the saddle so I feel confident to give this saddle a go for the season.

"It's very important for me to have a saddle perfect fit for long climbs to get to the stages – that is where I feel I get the most benefit from the Terra Alpaca."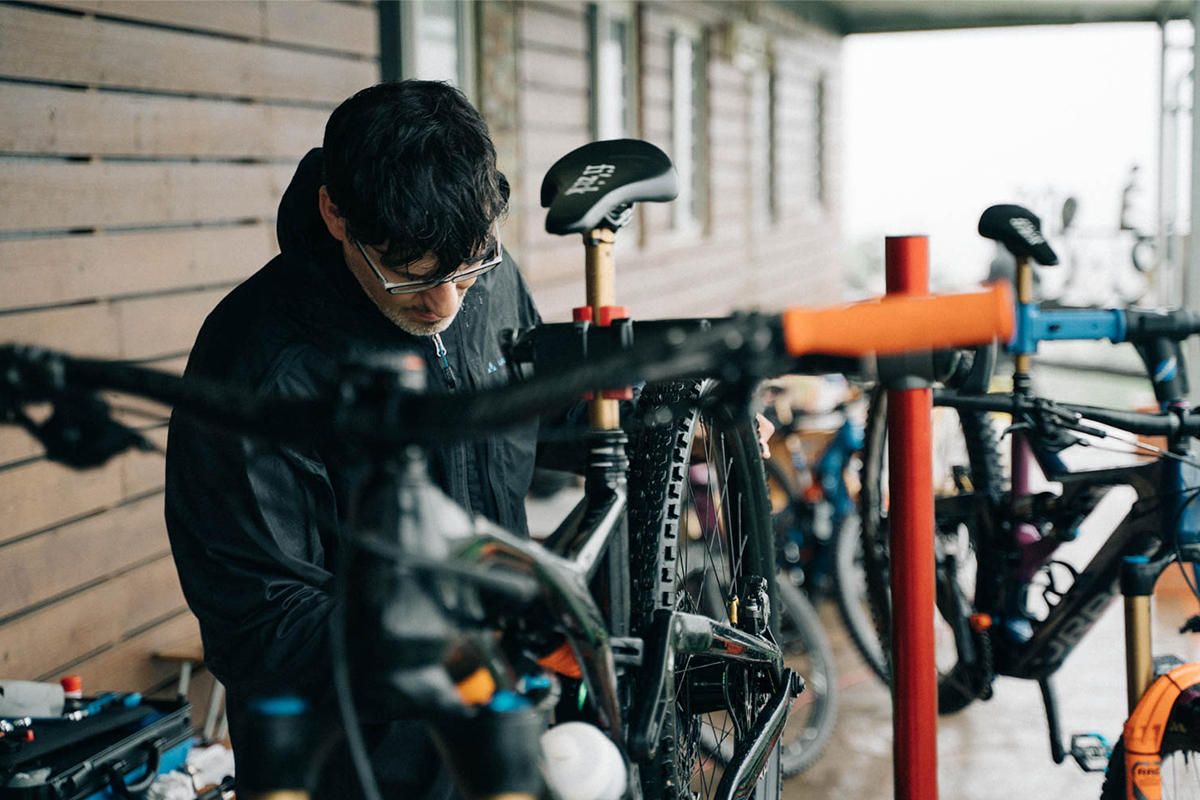 The French campaigner Oton has similar priorities: "That 10% is only within the stage, and anyway we're riding this 10% full gas, standing on the pedals, so during the stages we're almost never sitting on the saddle.

"But to get up there to the top of the stages we spend hours and hours on the saddles… to me comfort is essential ! I don't look at the weight of the saddle first but at its comfort. Of course if we can have both it's better, but for me it's comfort first."
PRE-SEASON TEAM-BUILDING
"This was my first ever real test camp but it seems like it helps a lot," said Peršak. "Not only from testing the products, but also from the team building side. "We got to know each other more and that's how we will work as a team during the whole year."

"The test camp in Lousã was very helpful… the conditions were really hard. Wet, windy, rain… Complicated to find this at home," said the young Spaniard, Torralba. "Definitely, it's good to train and test with these conditions. We are going to have a lot of races with similar weather."

Edgar Carballo, his more experienced compatriot, shares the mood: "My first time with Damien Oton we connected perfectly. With our mechanics, manager, timekeeper and cameraman, it's like working in a family."

Three-times Enduro World Series runner-up Oton is new to the fizik-sponsored team for this season – and he quickly found his place in the Orbea FOX Enduro Team family: "It's a young team, but definitely a pro team. From my side I felt like home with my new partners, manager and mechanic. Everything was perfect. It was a tough track with tough conditions but it was perfect to train on."

In those wet, muddy conditions they also tested the fizik Terra Clima X2, which, says Štrancar, "received a 10/10 rating from all four riders!"

But, just as the team were looking ready to race, the 2020 season got turned upside down by the pandemic. Like the rest of us, the guys had to make some rapid changes…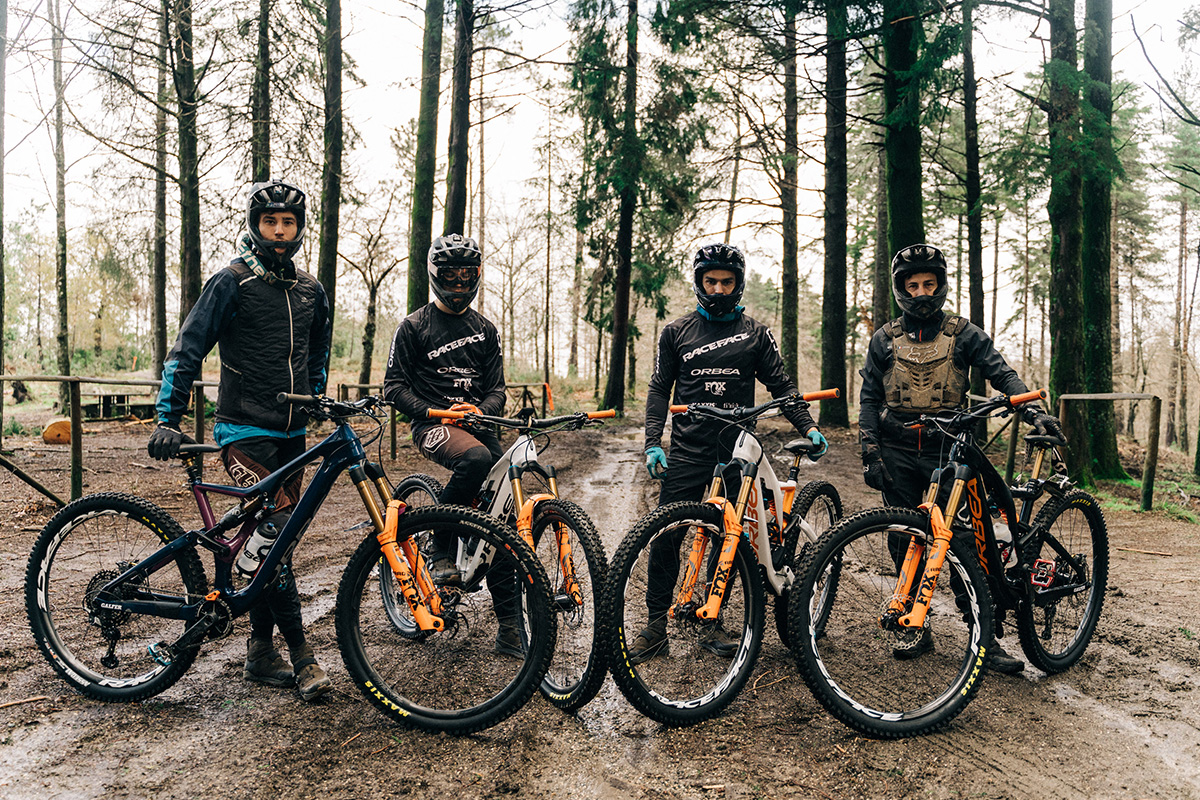 MAKING THE BEST OF THE LOCKDOWN
The team's general goals of the season – success and strong placings in the EWS, E-EWS, and national competitions – are largely on hold, and the riders' specific aims are to be reevaluated when the true shape of the racing season becomes clear.

"We know that most athletes were at their performance peak, because lockdown happened just before EWS in Colombia," explains Primoz Štrancar. "It was supposed to be a block of two EWS races: Colombia and Chile."

The idea, for the Orbea FOX Enduro Team, like their fellow pro and enthusiast riders alike, has been to make the best of the lockdown period.

"Together with the riders and their coaches we decided to drop the quantity and intensity of training… actually right after cancelation of the first two races the athletes took a week off, like they were in a preparation period," continues the team manager.

"Then we adopted the appropriate training for each country – our athletes are living in Spain, France and Slovenia – and their training follows the rules for each country. More or less all training is in or around the house. Even if it's sunny outside there is a home trainer in action, and a lot of core exercises with weights."

"My training routine hasn't changed too much," says Vid. "I am pretty lucky to live in Slovenia where government restrictions aren't that bad and I can still go out ride bikes alone. But I've stepped back to focus more on some old injuries and weaknesses in my home gym to get my body in perfect shape when we get a green light."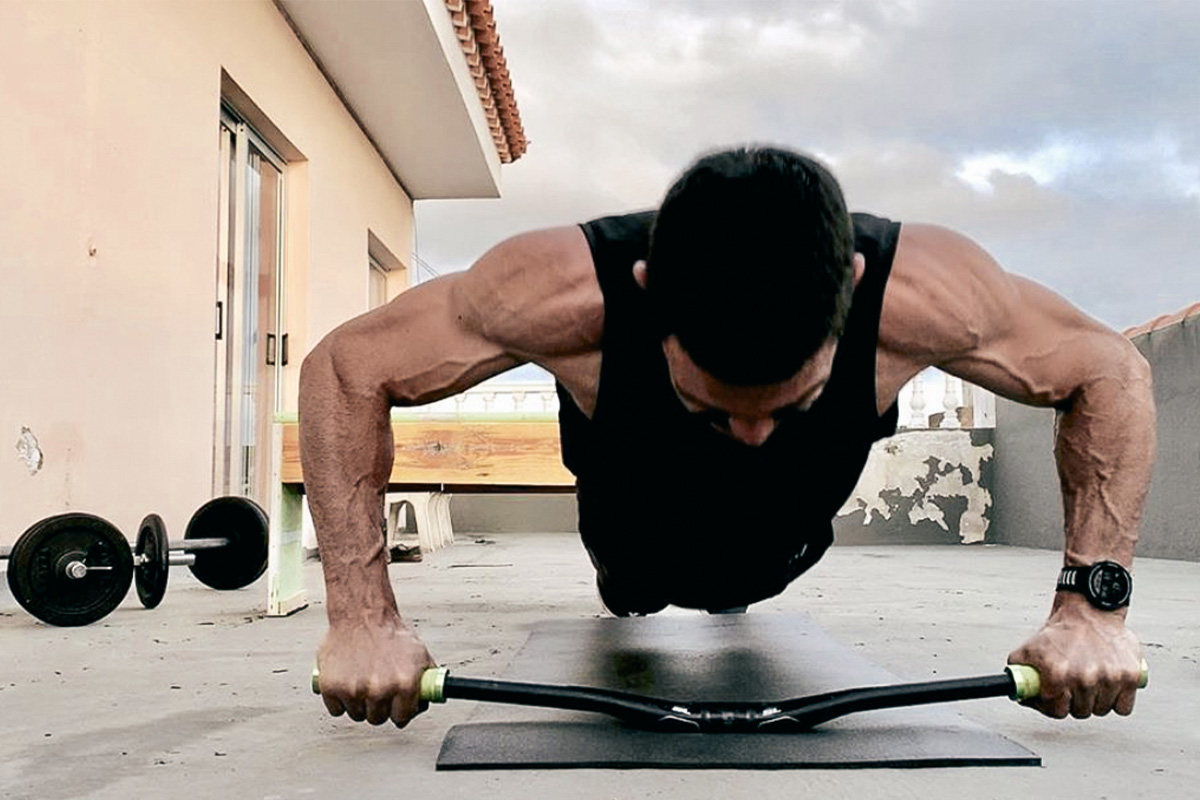 "I do some gym every day with my own material, and I try to improvise new stuff with my coach," says Damien. "I also work on the home trainer in my garage. It was fun the first four weeks but now I need to go outside and ride my bike…"

"The focus is on keeping the good performance from a month and half ago," concludes Štrancar, "and just wait until things are clear, so then we can start with specific training."

The team are in constant contact with each other, including organized meetings where the agenda can cover a number of different topics. They use this to stick together and keep motivated, something that Štrancar says is a primary goal of the team.

"We are lucky to have WhatsApp, Skype, Facebook and Instagram to talk together, we can speak about race decisions, the future, and know when we need to be ready to race!" says Oton. "Our team manager Primoz is here to tell us the decision taken by the EWS as soon as they know it. It helps a lot."

When it's clear to go racing again, do the guys think the competition will be even more fierce? "Indeed!!" says Primoz Štrancar. "But I guess that the racing will change a bit… because all of humanity will change. Our sport will grow to the next level. This is that adrenalin which we are missing at the moment."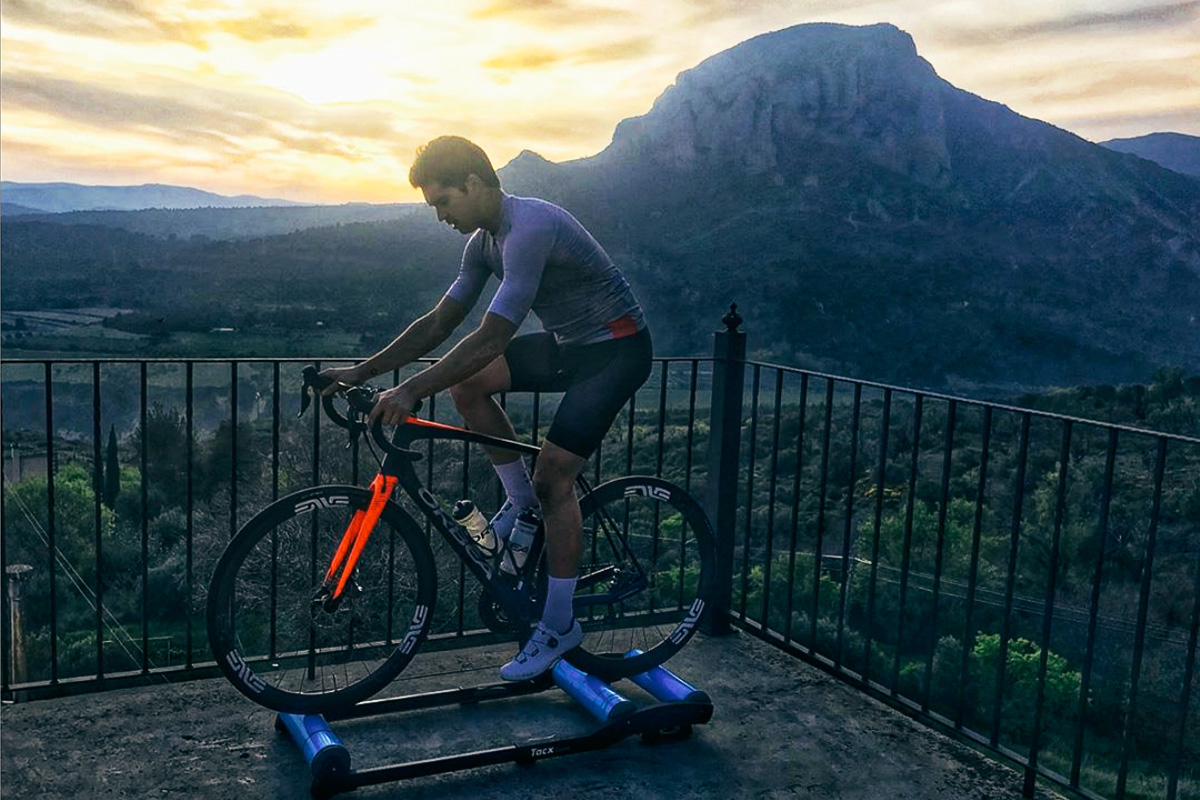 "I can tell you that my adrenalin will be way higher than a normal season and I think we are all going to be very excited!" agrees Damien. And it's the same for Vid: "When we are back racing I expect to be more focused than ever. My motivation is still on a high level."

"Guys, fans, crowd, all the people who are in love with our sport. We are doing our best to perform at the highest level when the racing starts, says Primoz. "One thing which I am completely sure of is that we'll see great things in the future. And because of this it's worth withstanding a little more. Our future is bright!"

We'll keep you up to date with the Orbea FOX Enduro Team, whatever happens later in the year. But for now their mentality is best summed up by Gabi: "My goal is to achieve my best all the time," and Damien: "The goal is to have fun. Fun is fast to me, we all know that," and Primoz: "Respect for human beings will be at a higher level. But for sure, fighting for seconds will never die."